Back to my roots…
The country where my mother was born (Batavia, now Jakarta) and my family lived for many generations since my ancestor came here from Scotland, married an Indonesian woman and started a new life in Bengkulu (Bencoolen) on Sumatra, somewhere between 1714 and 1741. His grandson became a planter and many generations later my grandfather was born in Kediri and my grandmother in Surabaya (both on Java). They met when they were children and neighbours living in Salatiga. My grandmother later grew up in Sukabumi and lived in Batavia (Jakarta) with my grandfather. During WO II my grandfather was captured by the Japanese, but he survived and they had two children here (my mother and uncle) and later two more in the Netherlands (my two aunts). After Indonesia became independent they stayed for a while. My grandmother helped in the transition by working as a teacher (she spoke Malay) and her sister's husband still owned a tea plant in Bandung, but eventually they moved to the Netherlands around 1955. Now I'm here to see where they and I come from, everything is probably different now.
Below is my first journey in October 2018. You can read my other two journeys in 2019 by clicking on the link:
My second travelstory of August/September 2019
My third travelstory of November 2019
2018
Jakarta
For the first time in my life I'm here, I'm really here! And somehow it feels a bit like coming home. I've never been here, but there are many familiar things, smells and habits here and I even understand many words. How is that possible? I guess I must have picked up some words from my grandmother, besides all the dutch words Bahasa has. The song 'Rumah saya (di mana)' of 'Doe maar' pops up in my head and the words make a lot of sense now.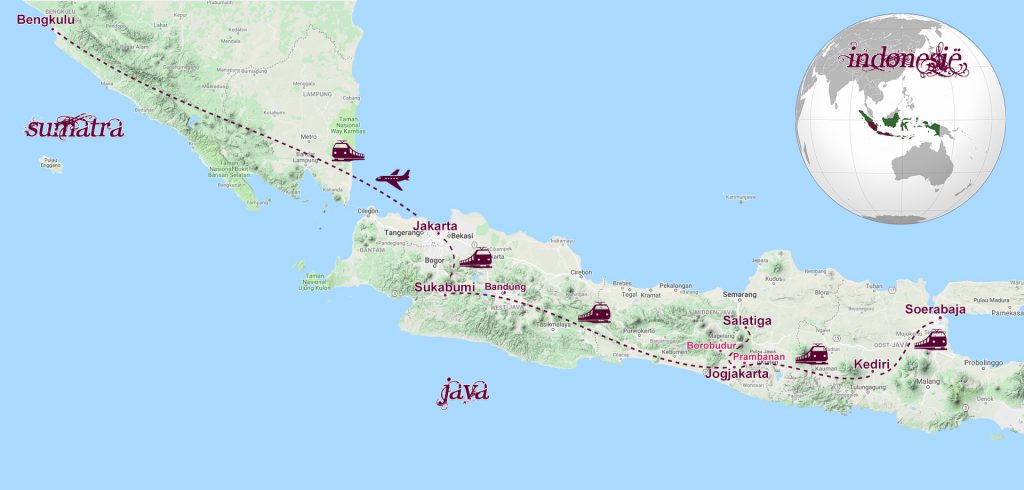 On the plane I met a woman who is also going back to her roots (living in Rotterdam), her brother lives here and they bring me to the hostel I booked on Mangga Besar. It's allready dark, because the sun goes down at 17.30. After a soto ayam (I really have try it here, eventhough I'm a vegetarian), a shower and relaxing a bit, I go for a walk around the block. I'm in the middle of the center and it still seems very unreal to me to be here.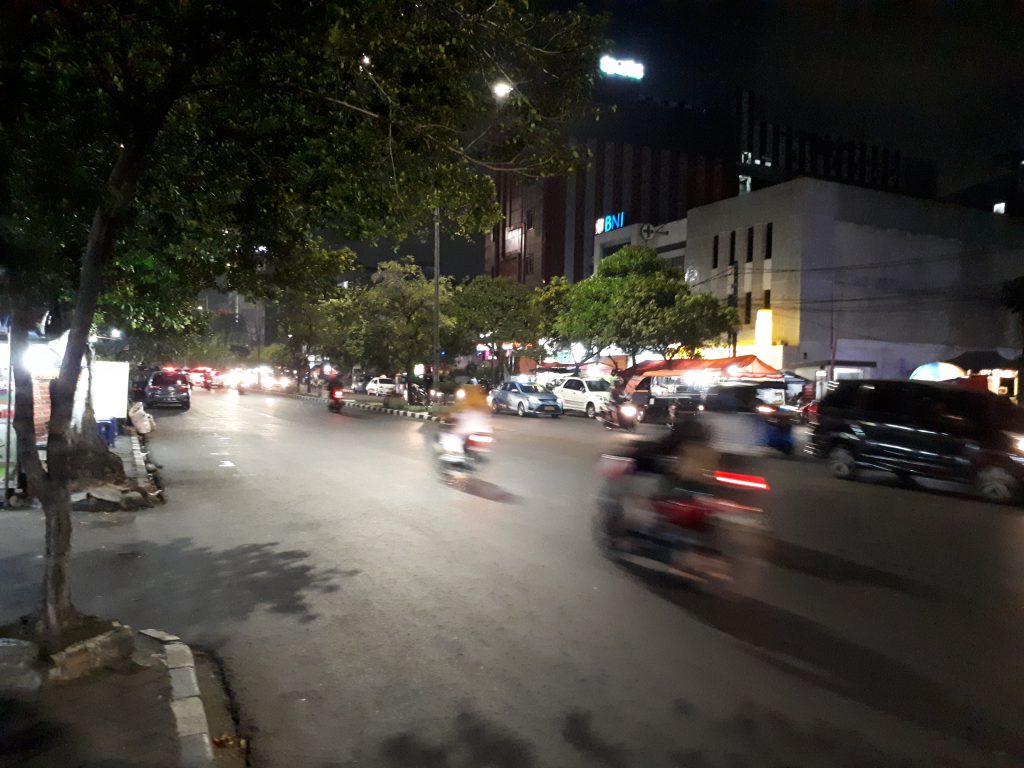 The first day here, I start with a nasi goreng off course. It's breakfast here and eventhough I cooked it myself a lot and tasted a lot of good indonesian food at home, it's special to me to eat it here. Yesterday I bought a cola in the Indomaret next door (this supermarket is open 24 hours a day) and now in the daylight I see it's accually blue haha (it's a special Pepsi flavour). A nice guy from the hostel brings me to the nearest mall where I can buy an indonesian simcard, so I have internet outside wifi spots and a phone number so I can use the Grab app to get taxi's (scooters and cars) everywhere. I go to the area of Gambir and Medan Merdeka, where my mother, grandmother and uncle used to live nearby. The cathedral where they went a lot is still there.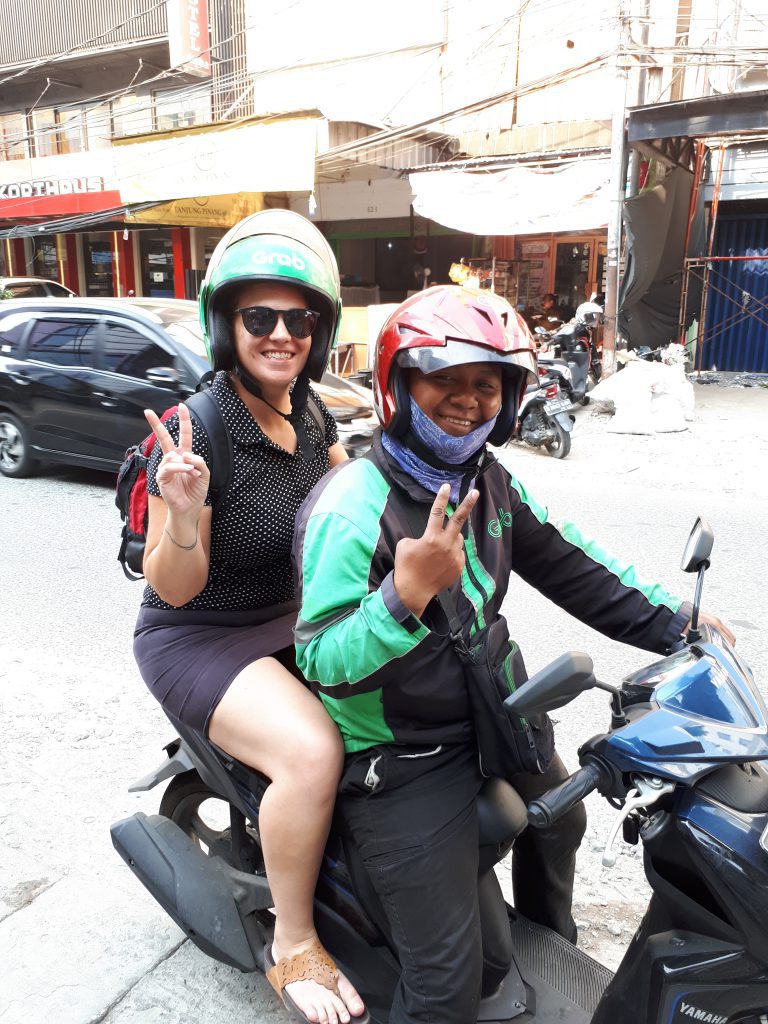 Old maps of Jakarta when it was still Batavia from my grandparents
Here in Indonesia they have all my favorite drinks: a variety of fresh fruit juices and fresh ice tea (es tee). Off course also a lot of my favorite food and snacks such as risolles.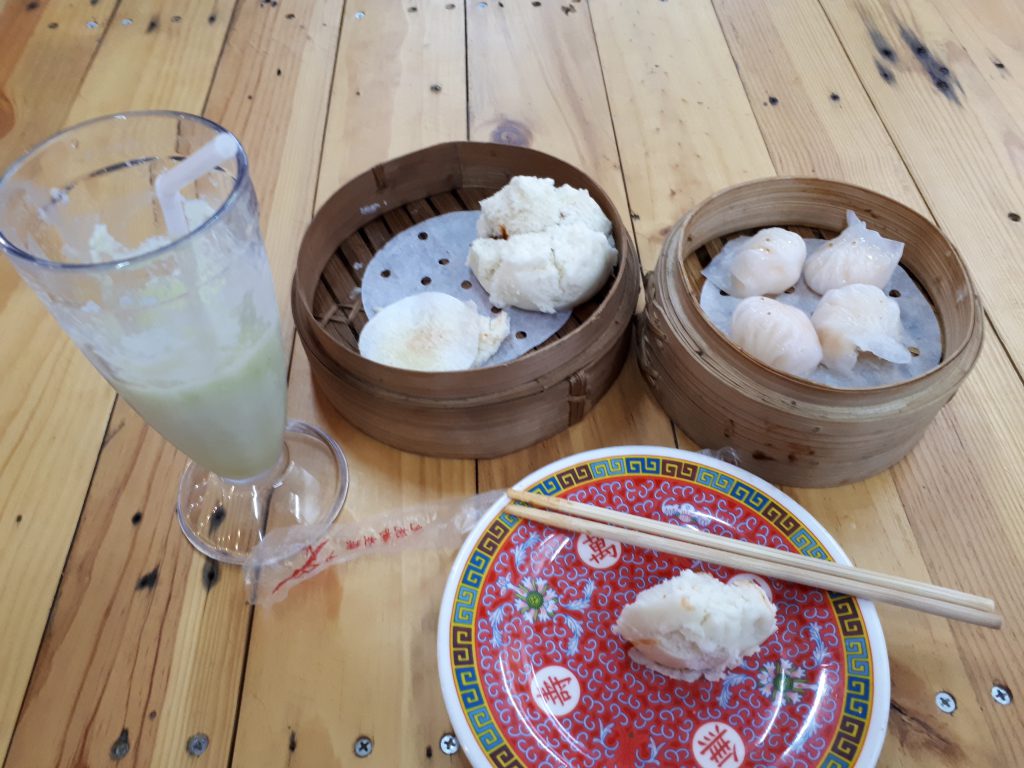 After eating dim sum (my favorite asian food) at a new pasar I return to the hostel. People there are playing music on there guitars and we sing along with a few Bintangs. I'm also invited to a karaoke bar.
Kota tua
Kota tua is the old part of Jakarta in the north. A lot of colonial buildings are still here.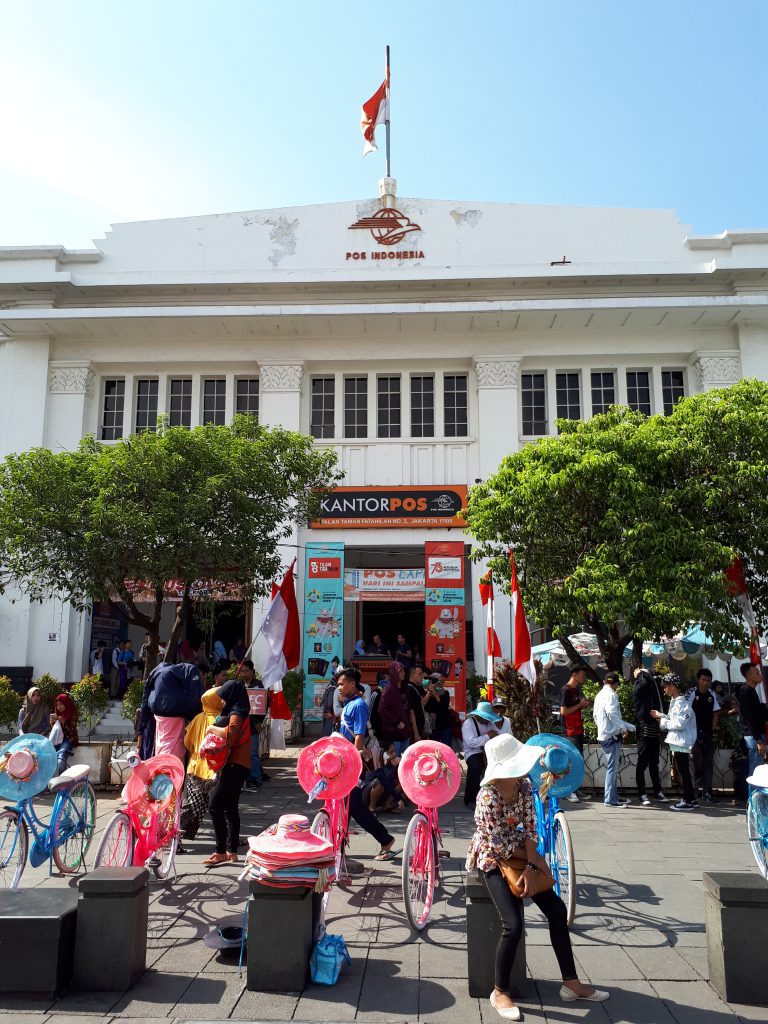 At this square some children asked me if they could speak English with me for a school project and some other people asked me if they could take a picture with me. When I walked into the (former) post office a guy there showed me the building and some old dutch things that they left behind when they left like a safe.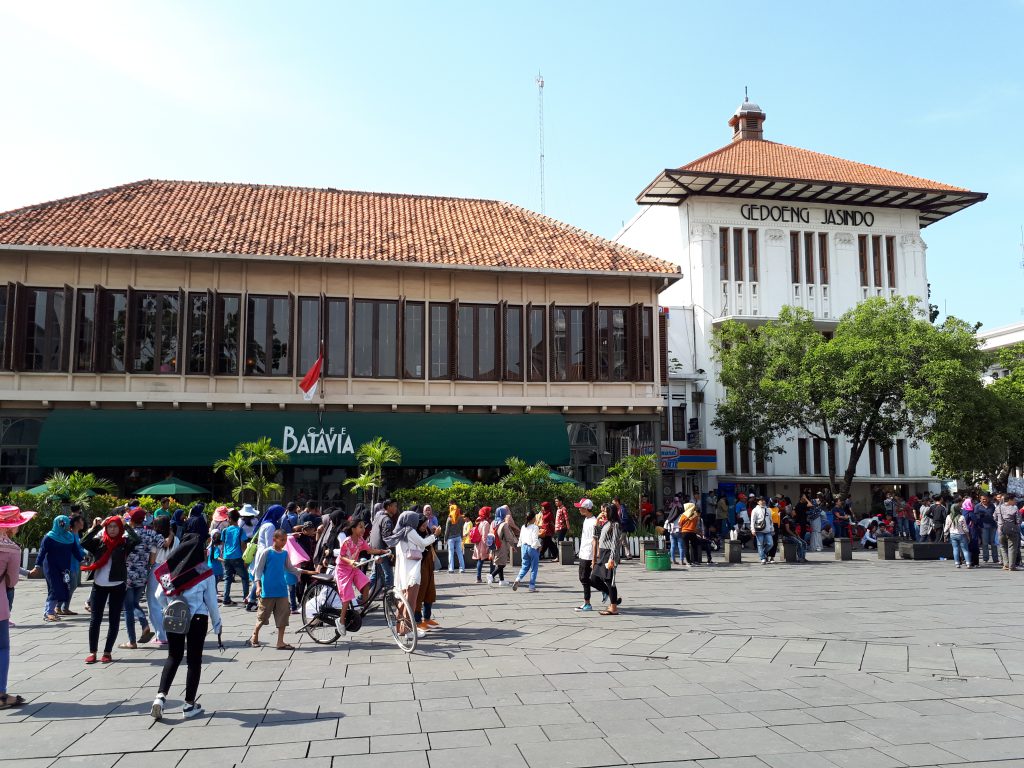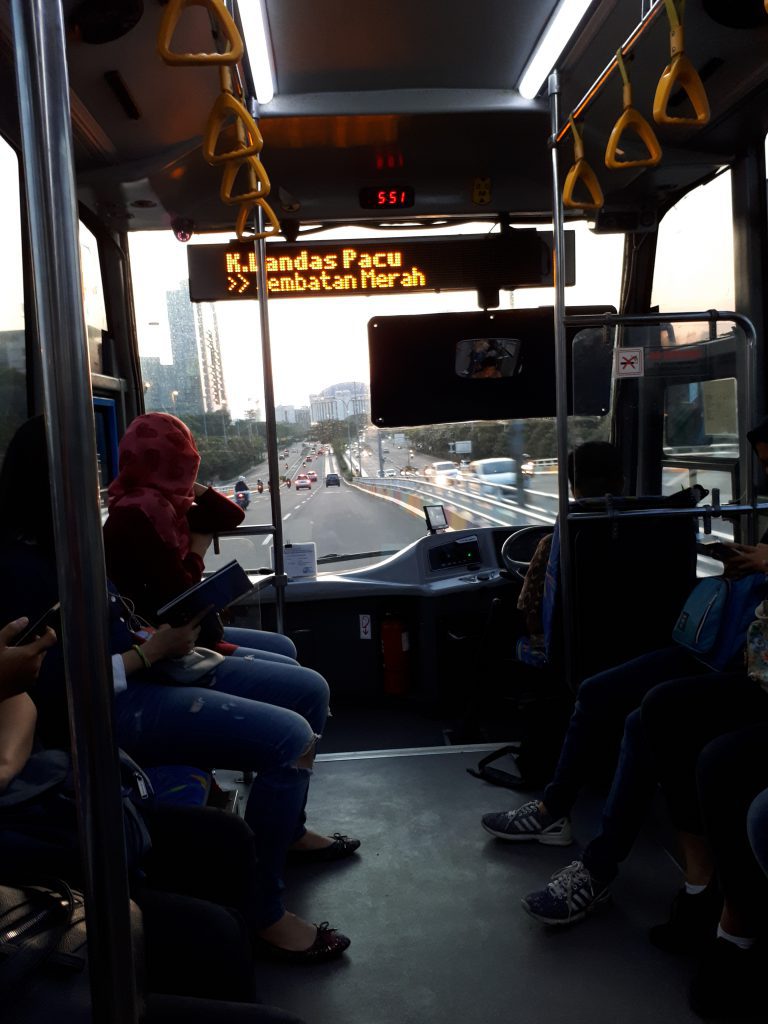 Sukabumi
On googlemaps I found the address of my grandmothers house in Sukabumi and it looks like it's still there, allthough the picture was taken a year ago (2017) and it's supposedly painted blue. But when I compare it to the picture my uncle took when he was there in the late 1980's, it looks exactly the same (but white).
Near Mangga besar I get on the train to Bogor and from there to Sukabumi. I'm very excited to see this town. My grandmother grew up there and my uncle lent me a book with some pictures of her in Sukabumi in it. She loved this town very much.
The train is very crowded, it's more than 35 degrees and it takes a while for my connection in Bogor to arrive, but on the train I get a whatsapp message from my brother telling me his son is born, so I've become an aunt! Soon I forget everything else and enjoy the amazing views outside. And then I hear the anouncement on the train, I'm almost in Sukabumi!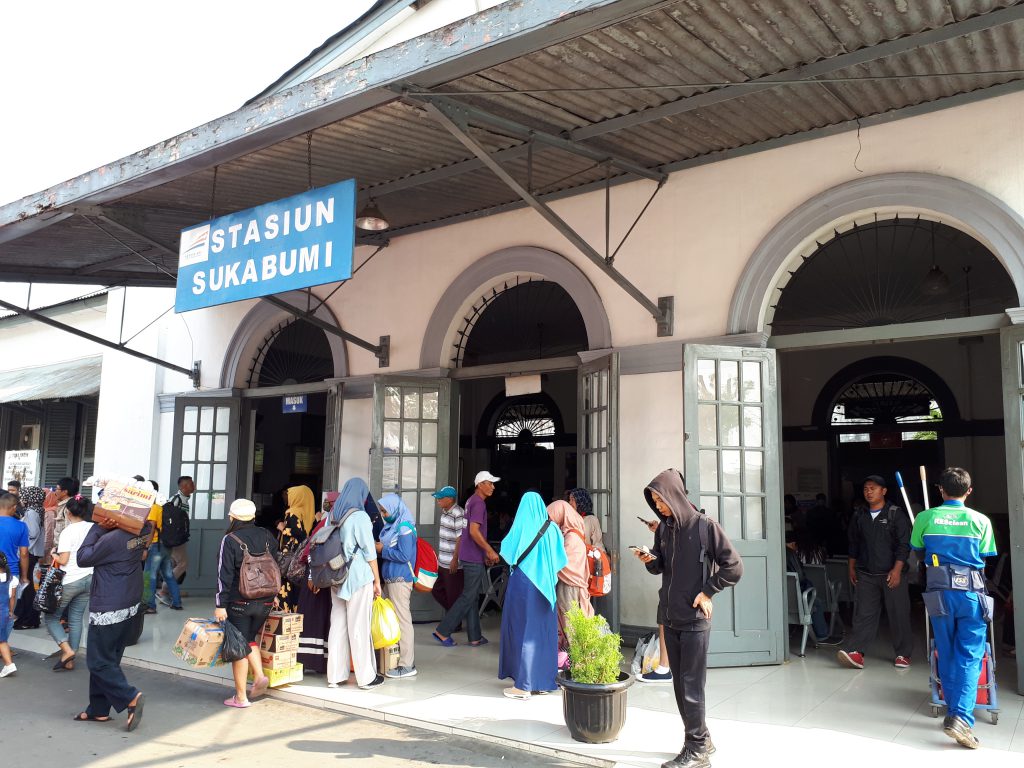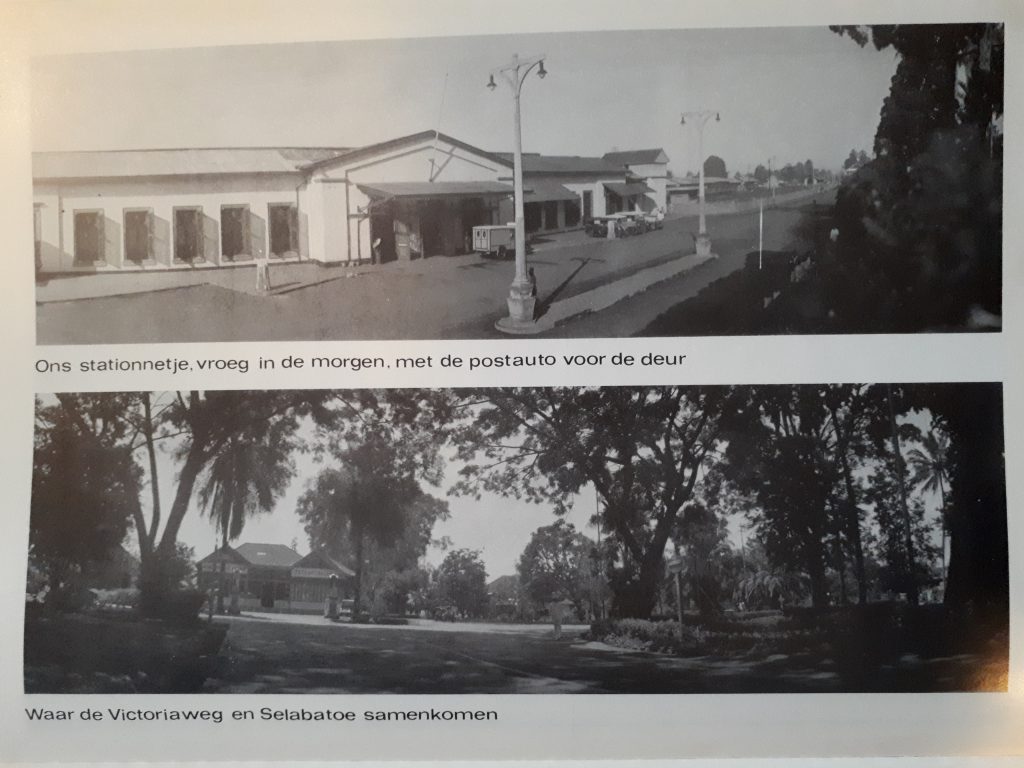 It's a bit of a disappointment to see this station. Is this Sukabumi? It looks nothing like the pictures with the peacefull and quiet little trainstation I saw or like any of the other pictures or stories I heard. Instead everything looks neglected and it's extremely crowded and chaotic. Off course it's 70 years later now…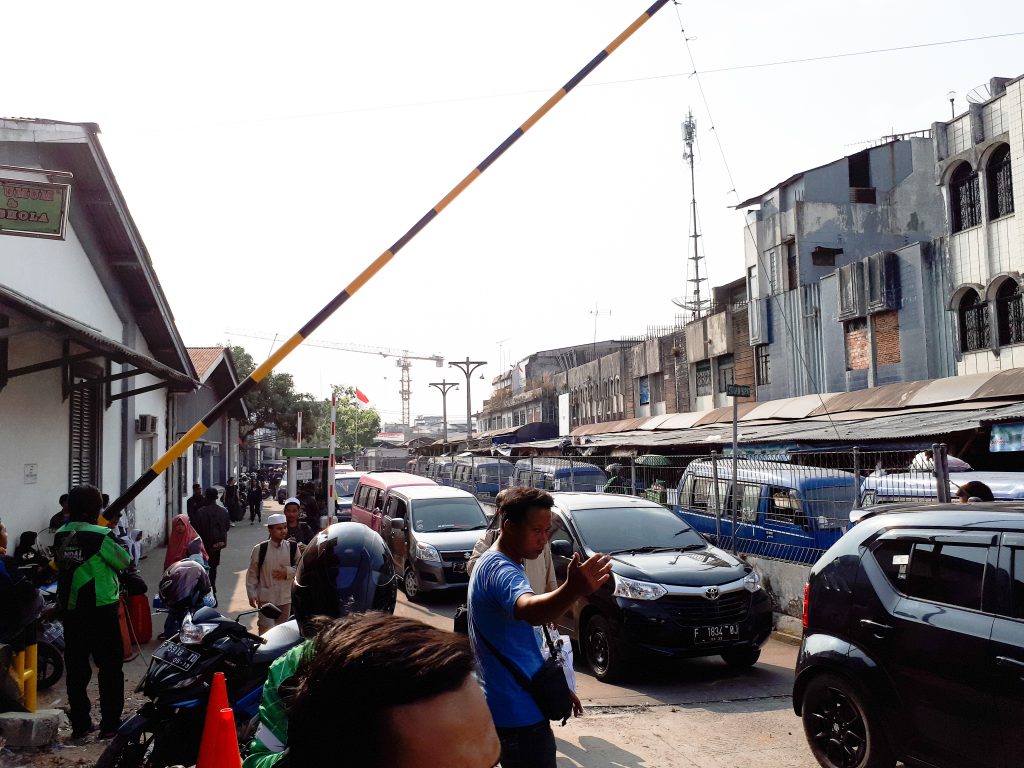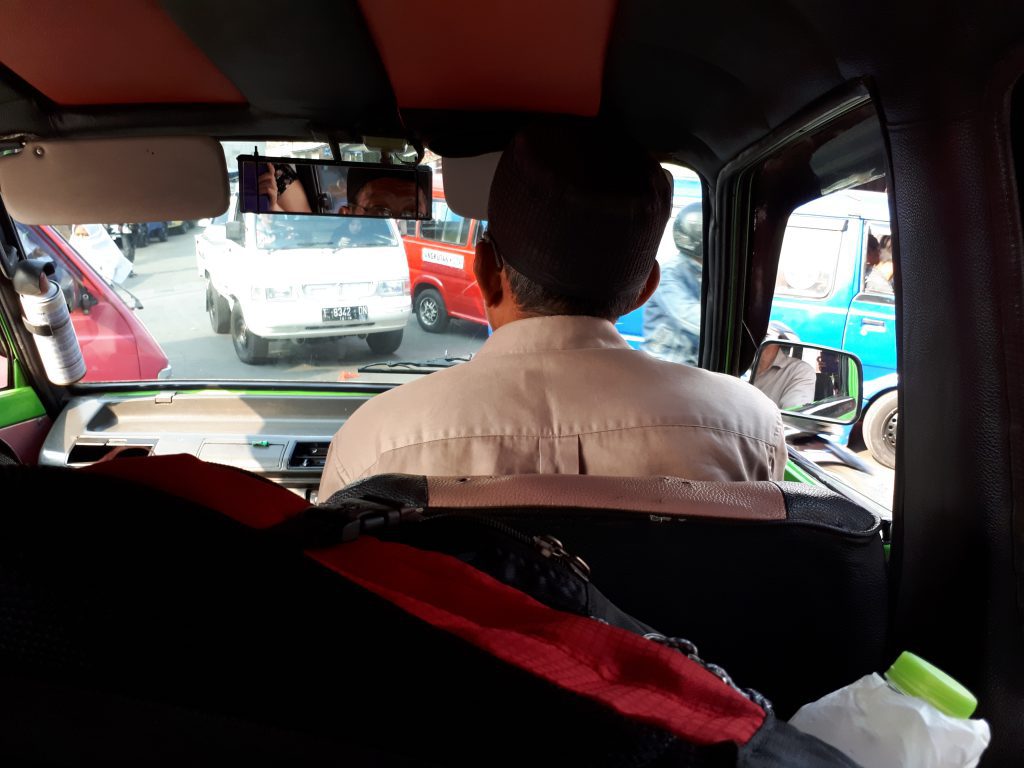 I get on an ankot and ask the driver to bring me to the bus terminal (because I'm staying at a families residence in a village nearby). But he tries to rip me off, eventually I get out and find a taxi that brings me there for a reasonable price. When I'm on the bus I receive a message from the family that they will pick me up at the busstop. I'm so glad I'm staying with them, they are very kind and it's peacefull and quiet there in the valley of mountains. This is also far away from the smog of the city, finally some fresh air! On their roofterrace (with a beautiful view) I enjoy the meal they cooked for me.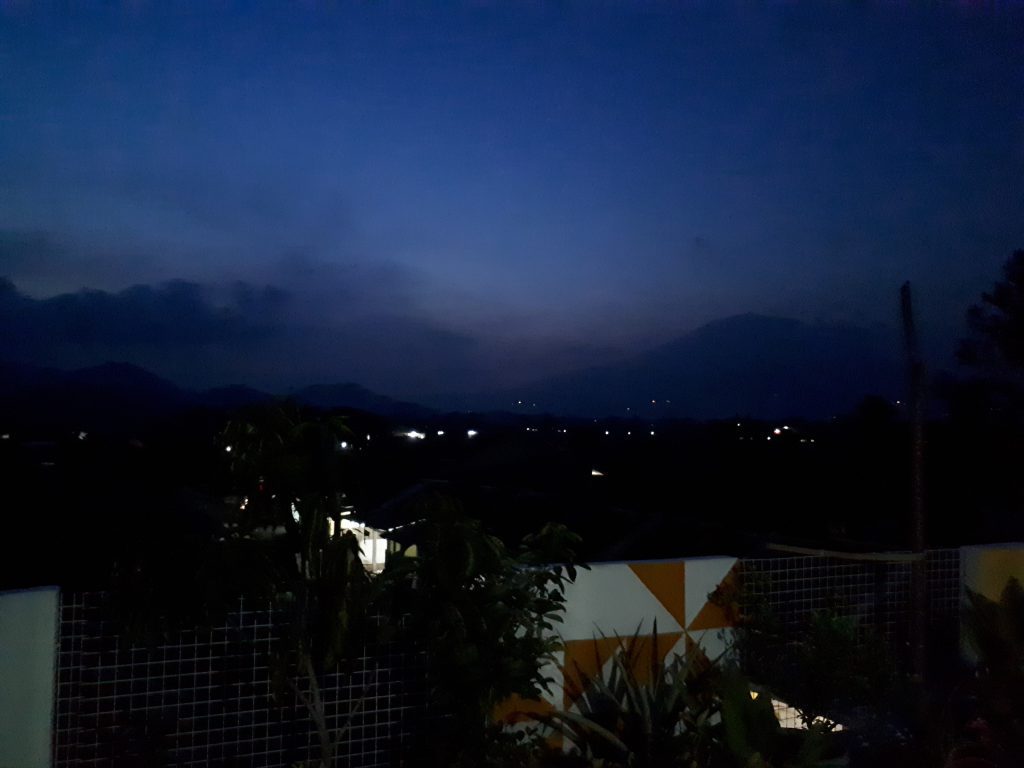 The next day I go to sukabumi by local bus. It's about an hour and it's a nice view driving through villages in the mountains. Along the way people get on and off the bus, some of them sell kroepoek, drinks, tofu, peanuts or play music. When I arrive in Sukabumi I ask the driver where the address is and he brings me to an ankot, who also brings me to another ankot, who brings me to his friend who speaks english. He offers me a ride to the address (for free). Along the way he tells me about Sukabumi and all the places we pass. He also asks me if he can take a picture of us together, because I'm belanda and he wants to show me to his friends. He wasn't the first to ask me this and he definitely wasn't the last. Off course I don't mind to be on a picture with these kind people. And then he tells me we are driving on the street where my grandmother lived. The house should be here somewhere. Suddenly I see a blue house on the right. When I look closer it really is the house. It's here! I'm here! My grandmother lived here and now I'm here!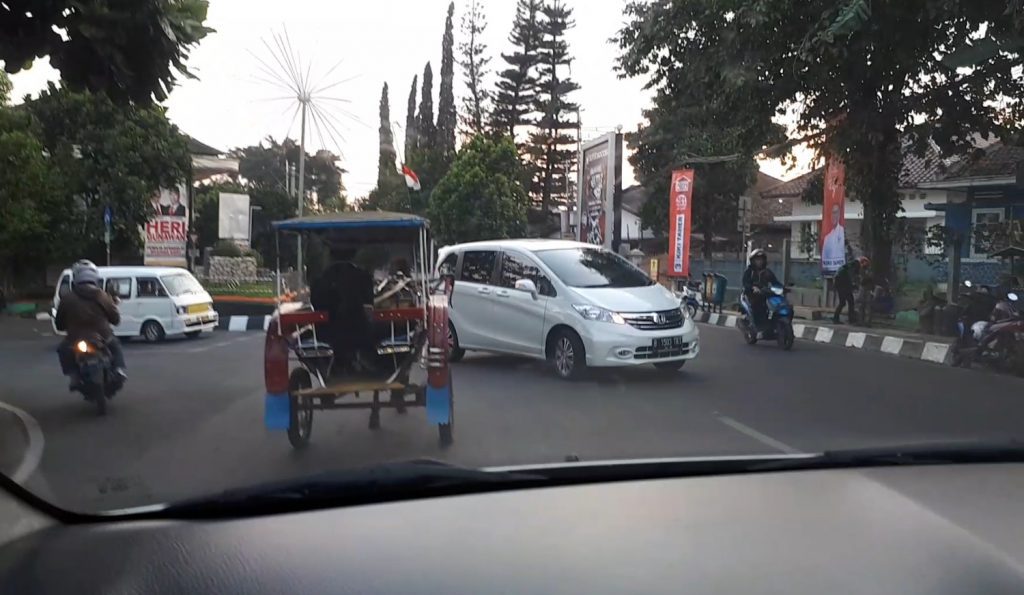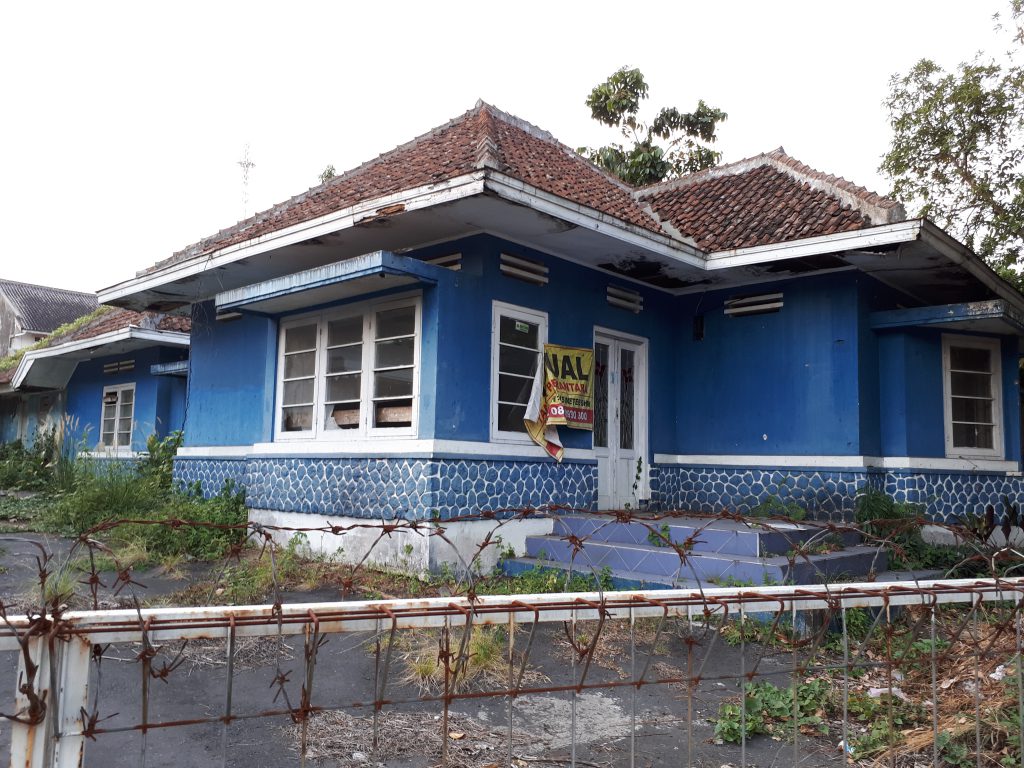 When I'm back at the residence where I stay, one of the sons invites me to join for dinner at a local restaurant with two of his friends who also stay at the residence for a few days while they are traveling through Indonesia. On the way back we stop for Martabak, a local cake, which comes in many flavours, a popular one is with chocolate and cheese.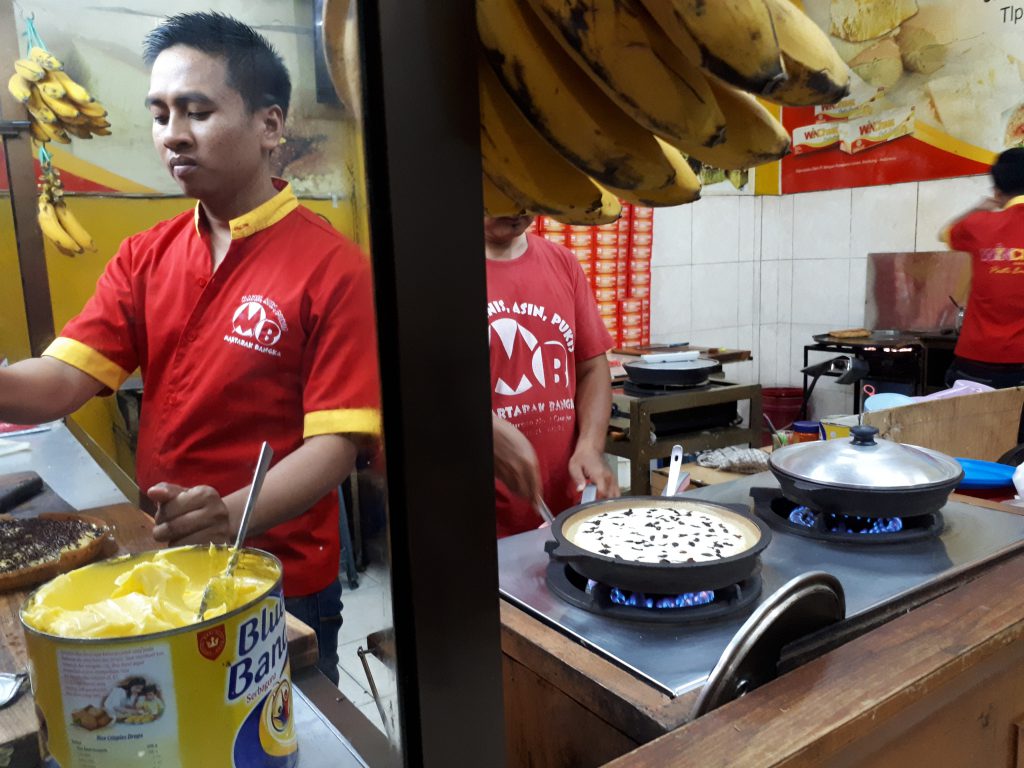 Warungkondang (Cianjur)
In the mean time a french girl (Julie) has arrived and we decide to go on a roadtrip together with the oldest son. It's an amazing tour in the mountains with amazing views, such as tea fields and small villages. We visit a very old pyramide and the waterfall Curug Cikondang Cianjur. Along the way we stop at villages, are invited to have lunch in somebody's home and we run into a schoolclass who have never seen a foreigner before and we take a picture of us together. This is an amazing roadtrip and I love driving on a scooter through the mountains with these amazing views as well. My grandmother always dreamed of moving to the Puncak (pass connecting Bogor and Bandung, Cianjur is part of it) after she retired. Without knowing that I also loved this area very much.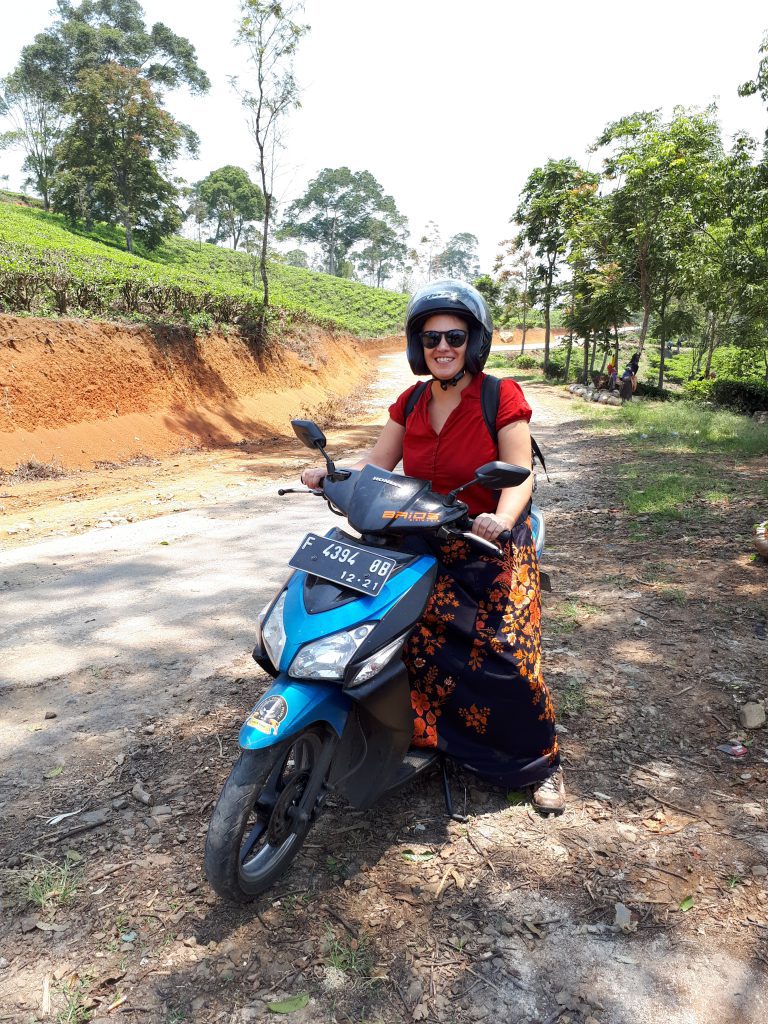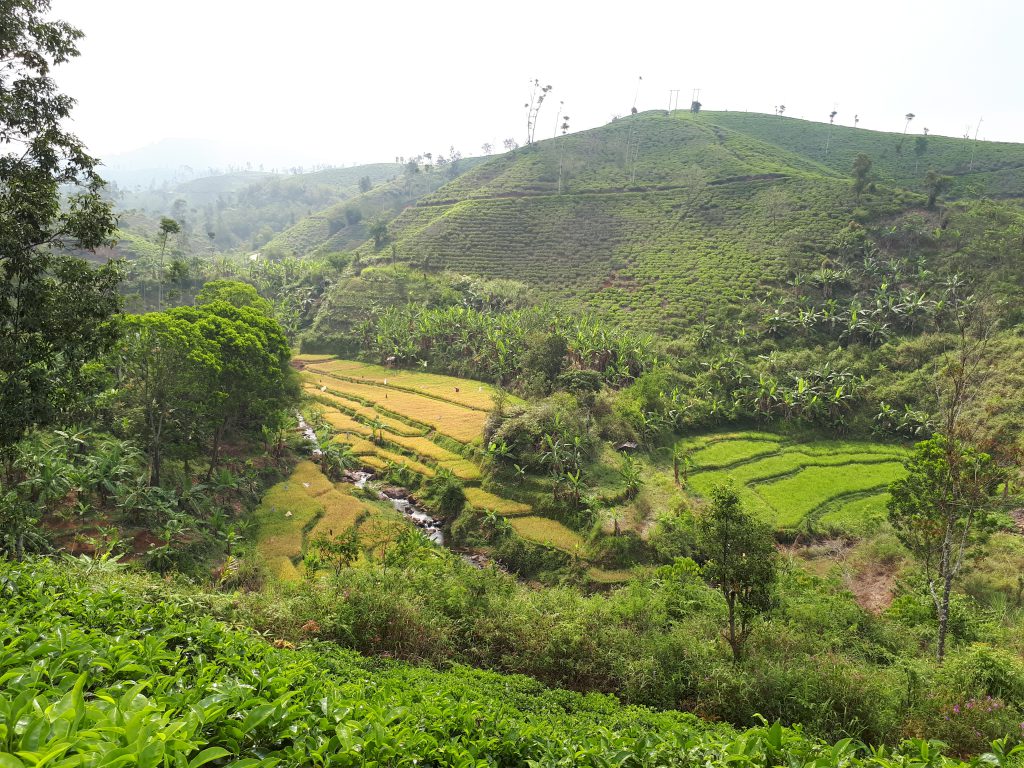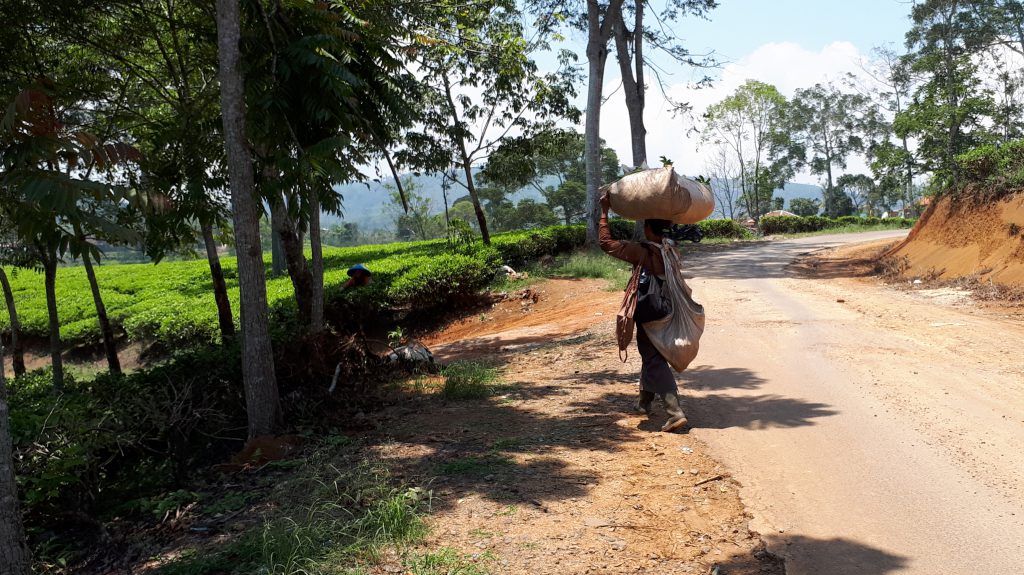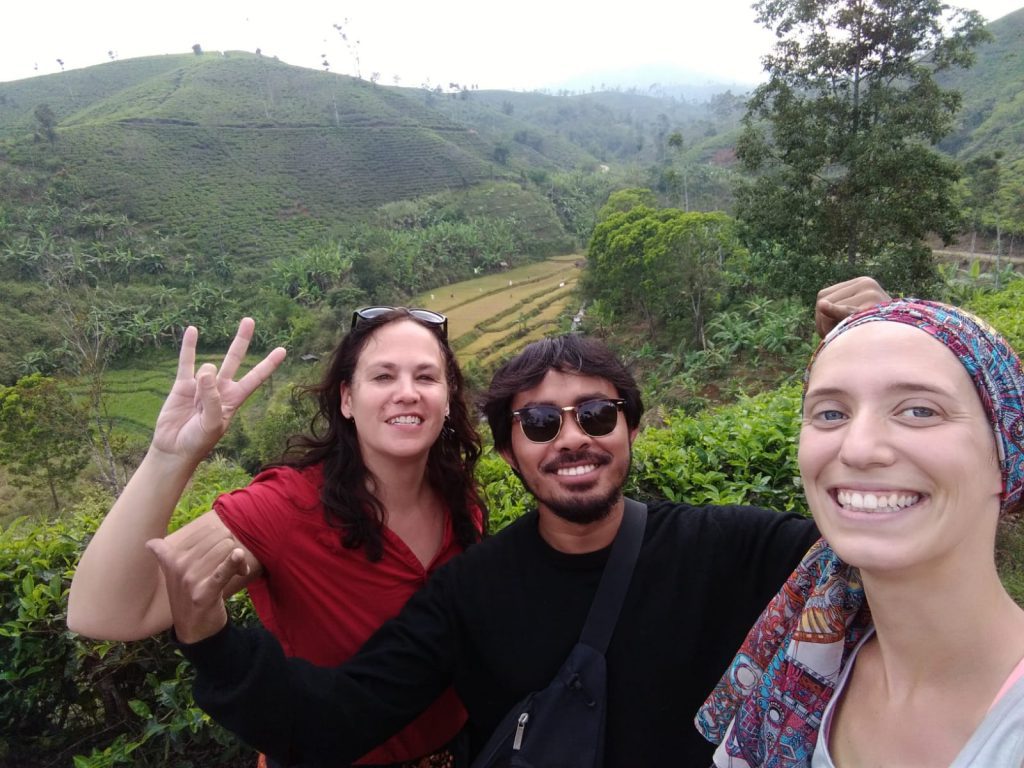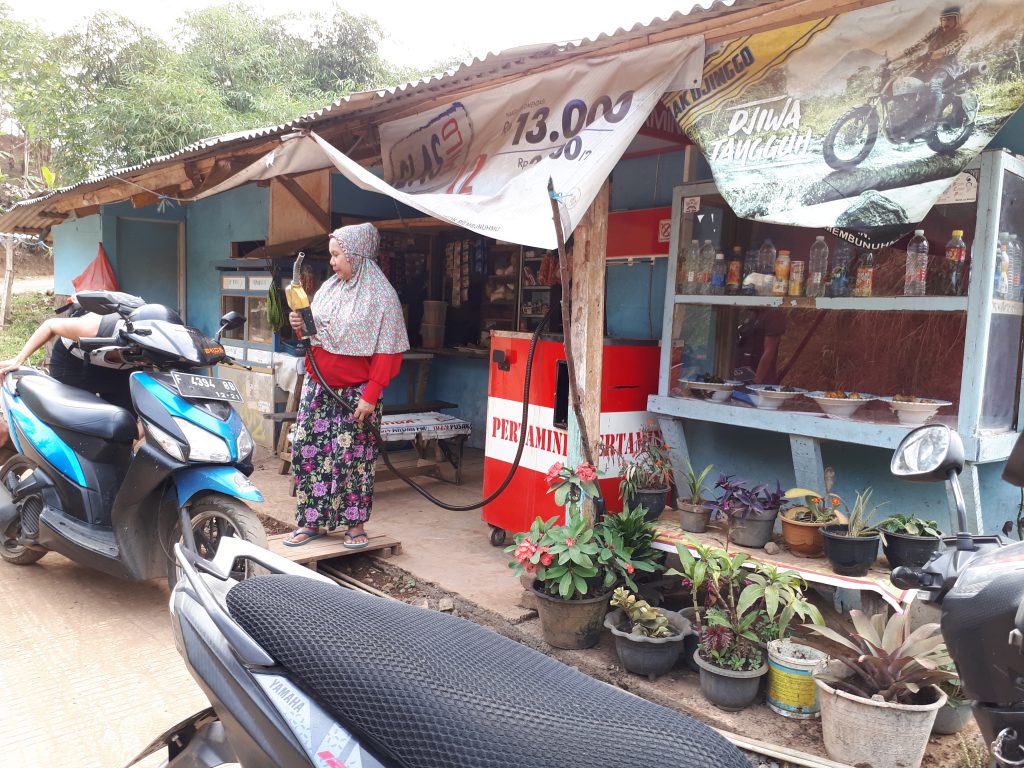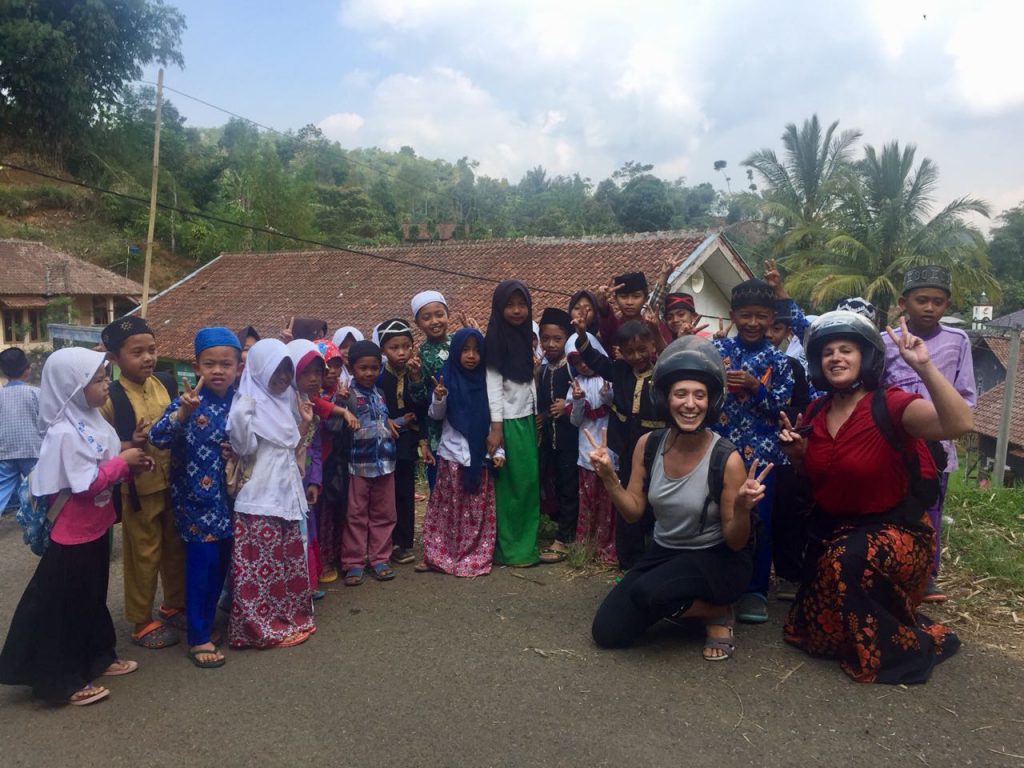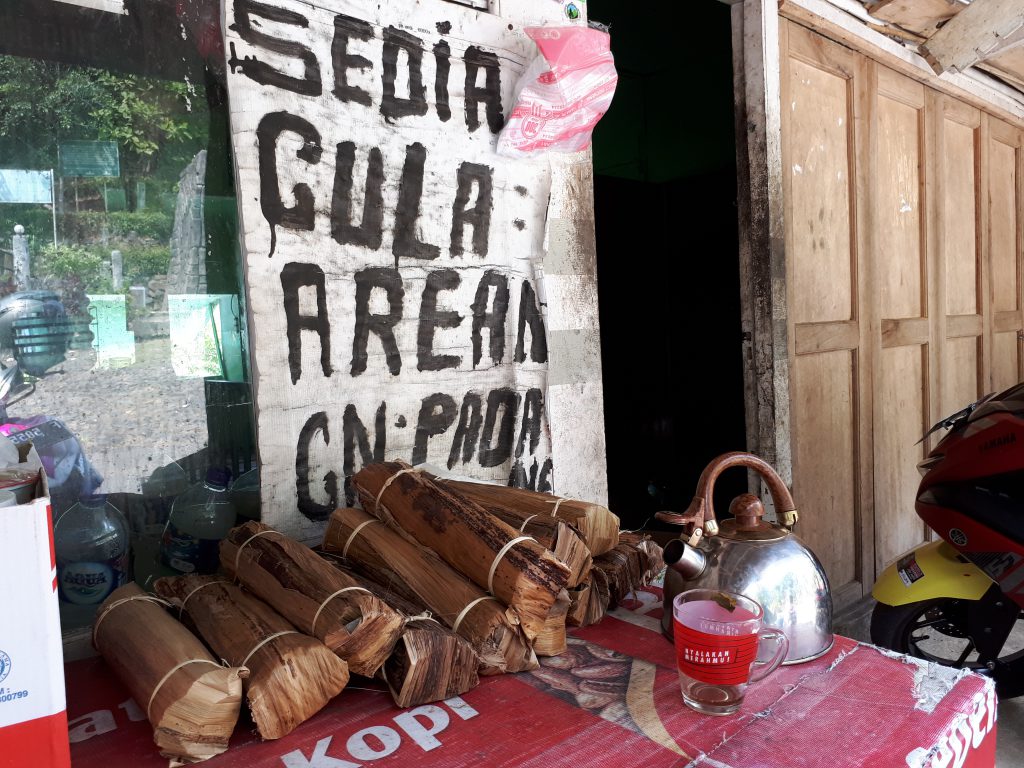 Gunung Padang
Gunung Padang is a megalithic site located in Karyamukti village. It has been called the largest megalithic site in all of Southeastern Asia. The site area is approximately 25 hectares, in contrast for example to Borobudur Temple, which occupies only 1.5 hectares. The wall-side construction of the terraces is similar to that of Machu Picchu in Peru. It is at least 52 centuries old and built at least in 4 different eras. It has produced controversial carbon dating results which, if confirmed, would suggest that construction began as far back as 20,000 BCE. A 2014 report suggests, however, that the site might have been built much more recently, perhaps sometime between the 2nd and 6th centuries CE.
The site covers a hill in a series of terraces bordered by retaining walls of stone that are accessed by about 400 successive andesite steps rising about 95 metres. It is covered with massive rectangular stones of volcanic origin. The Sundanese people consider the site sacred and believe it was the result of King Siliwangi's attempt to build a palace in one night. The asymmetric step pyramid faces northwest, to Mount Gede and was constructed for the purpose of worship.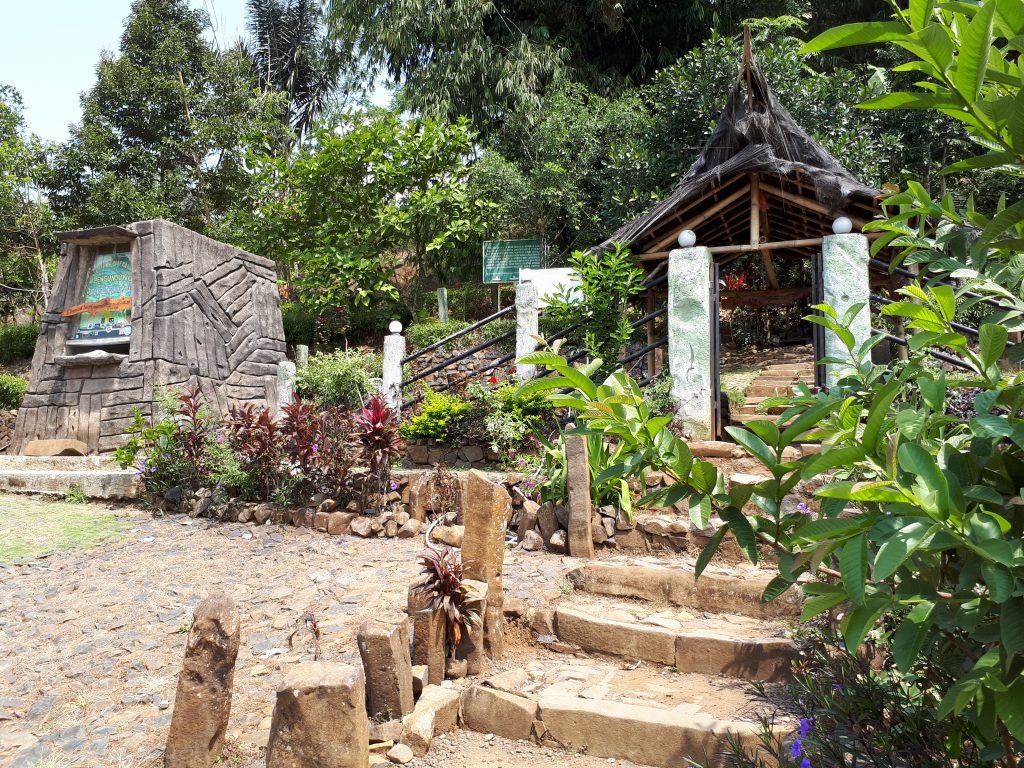 Curug Cikondang Cianjur
This waterfall is also know as Niagara mini and is about 50 meters high. You have to walk through the outskirts of a tea plantation to see it.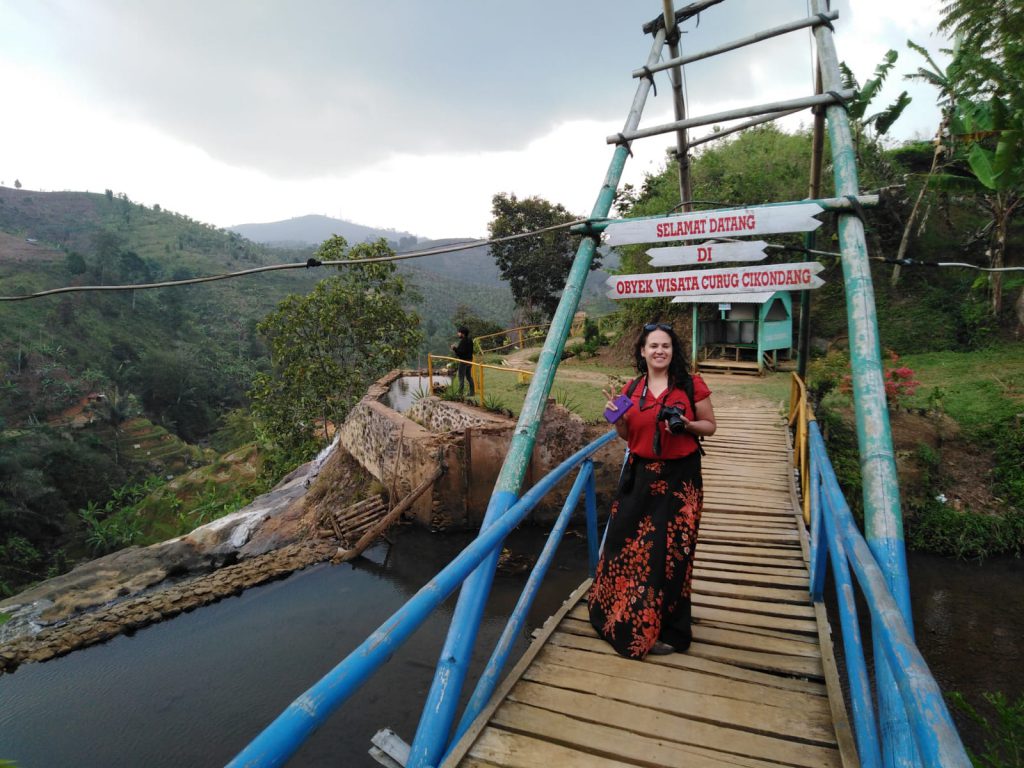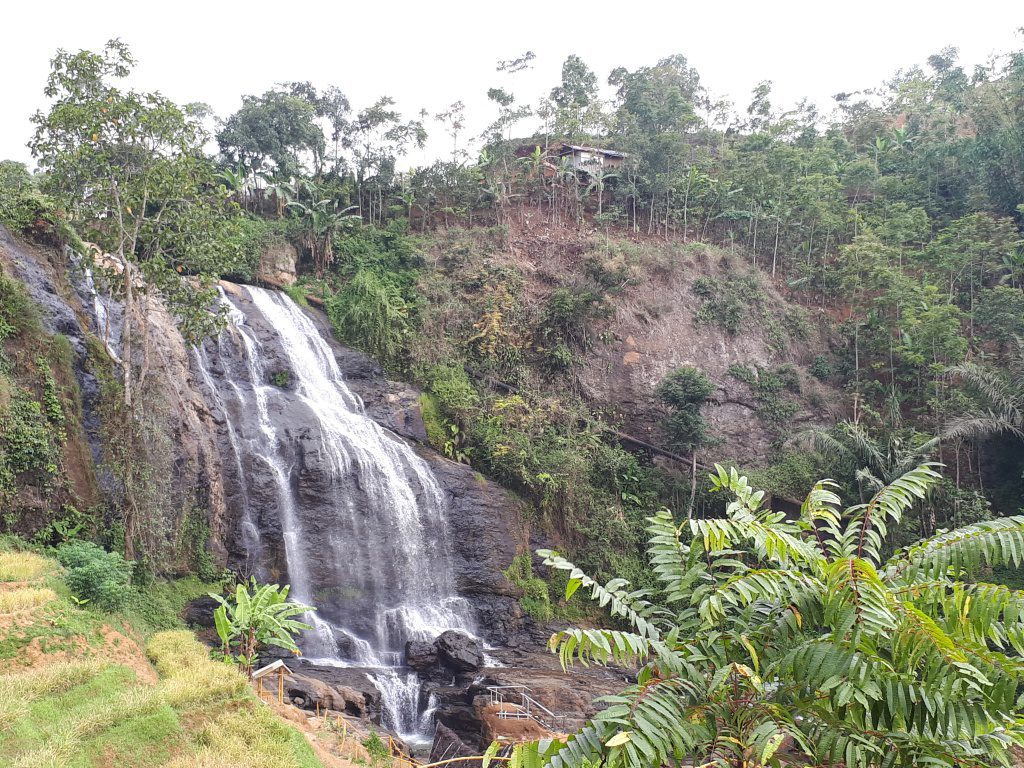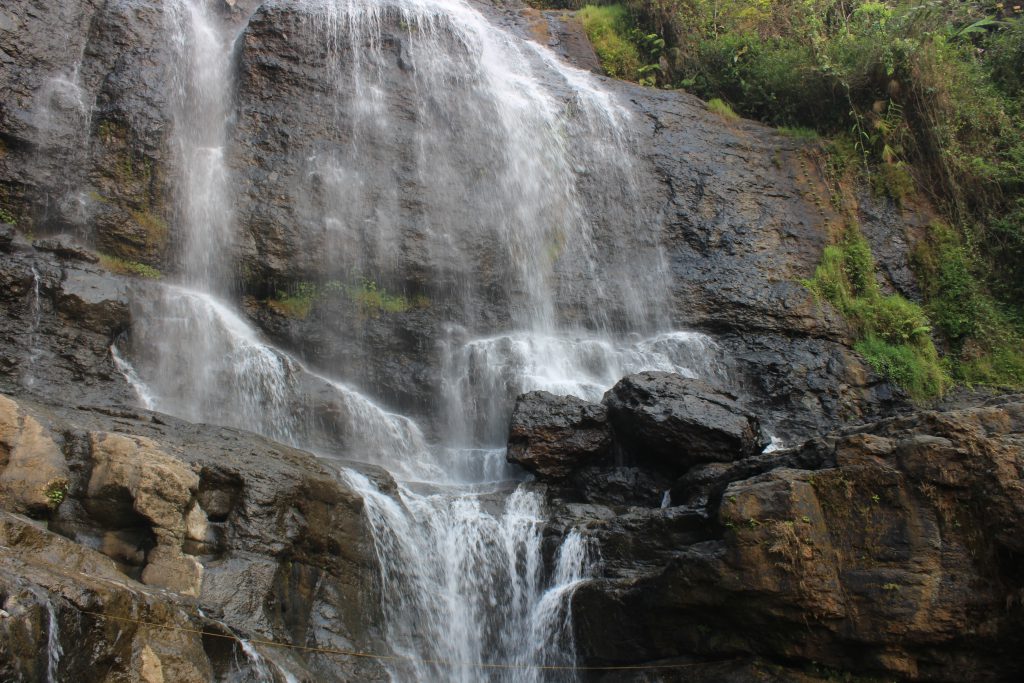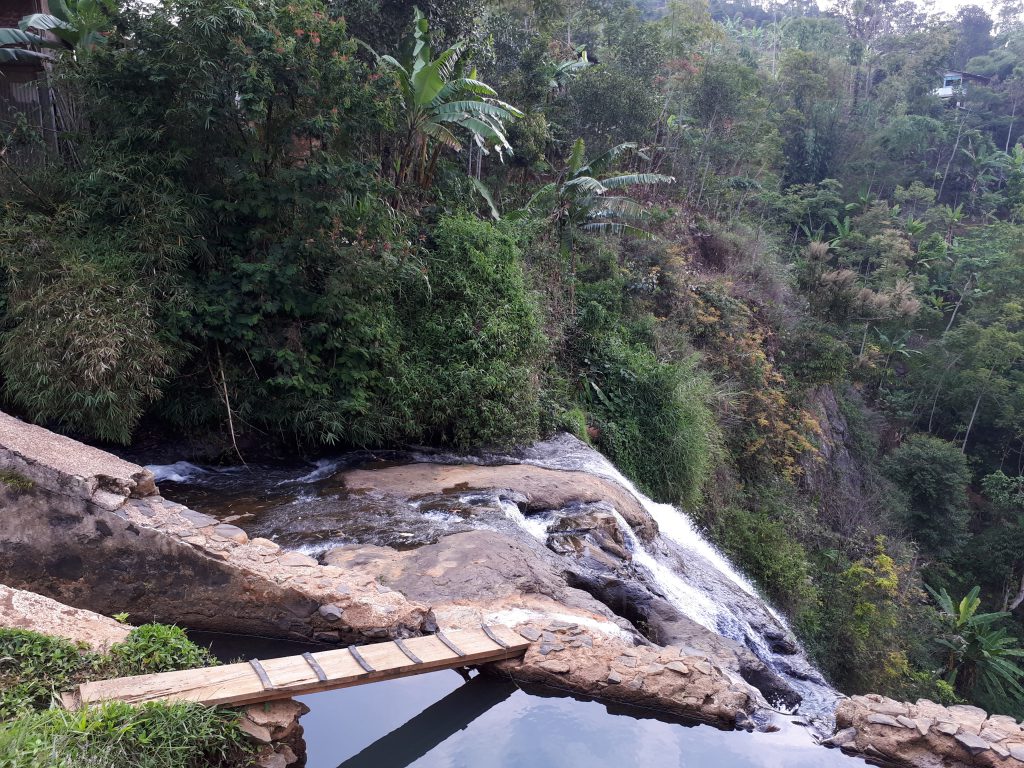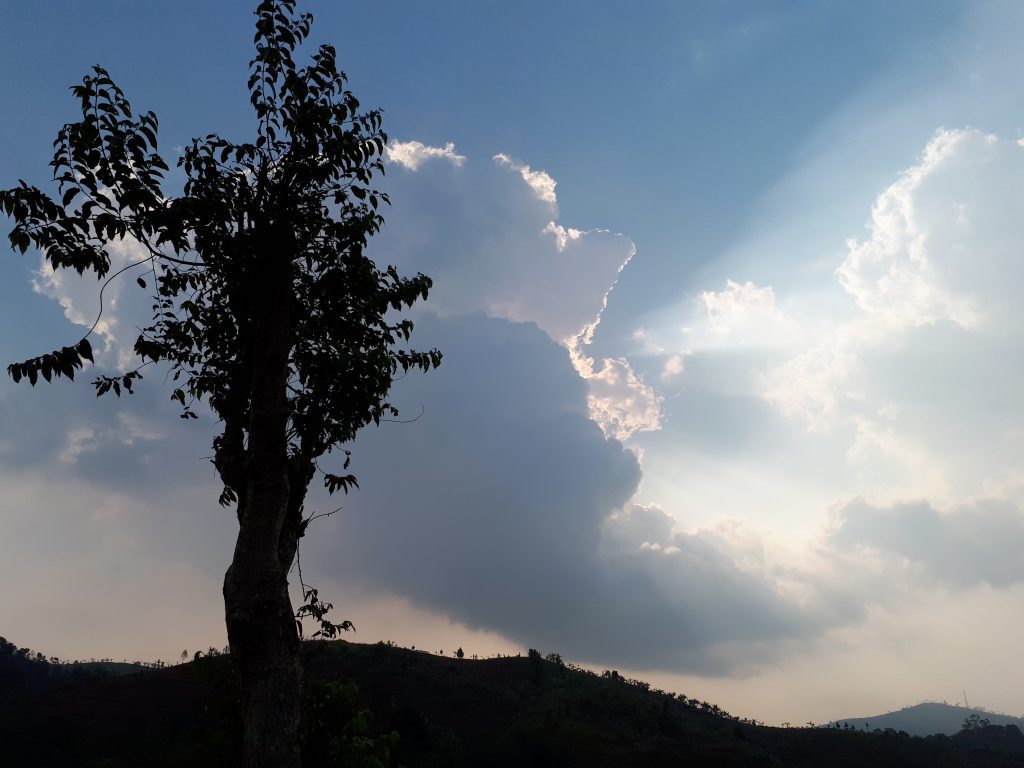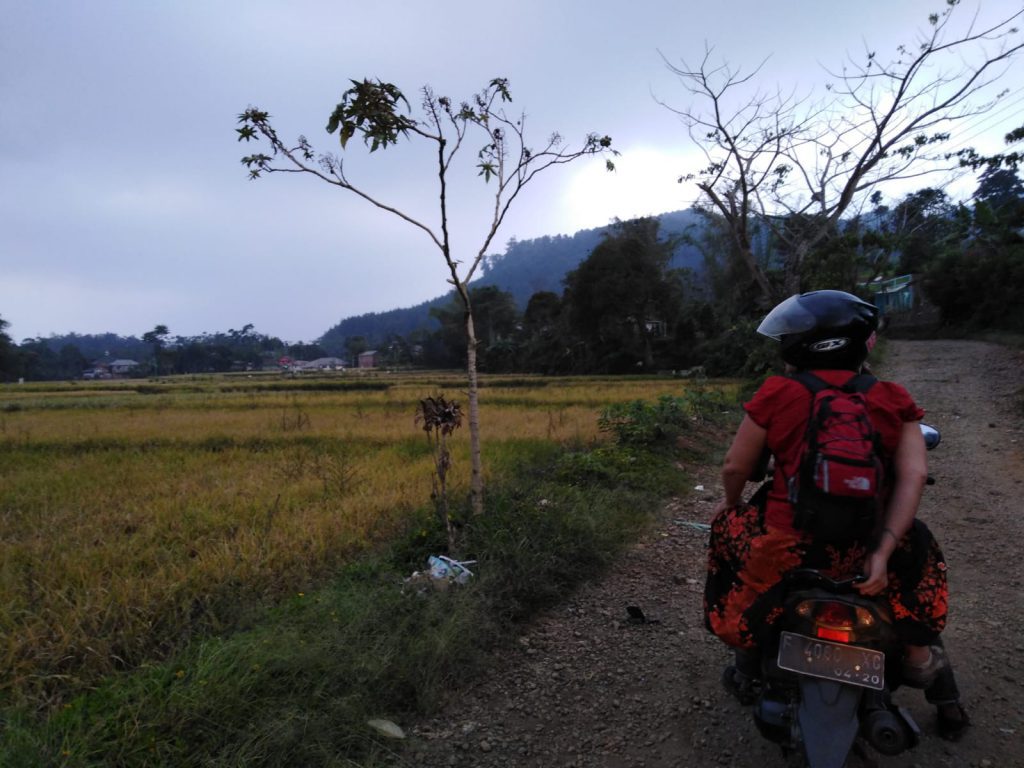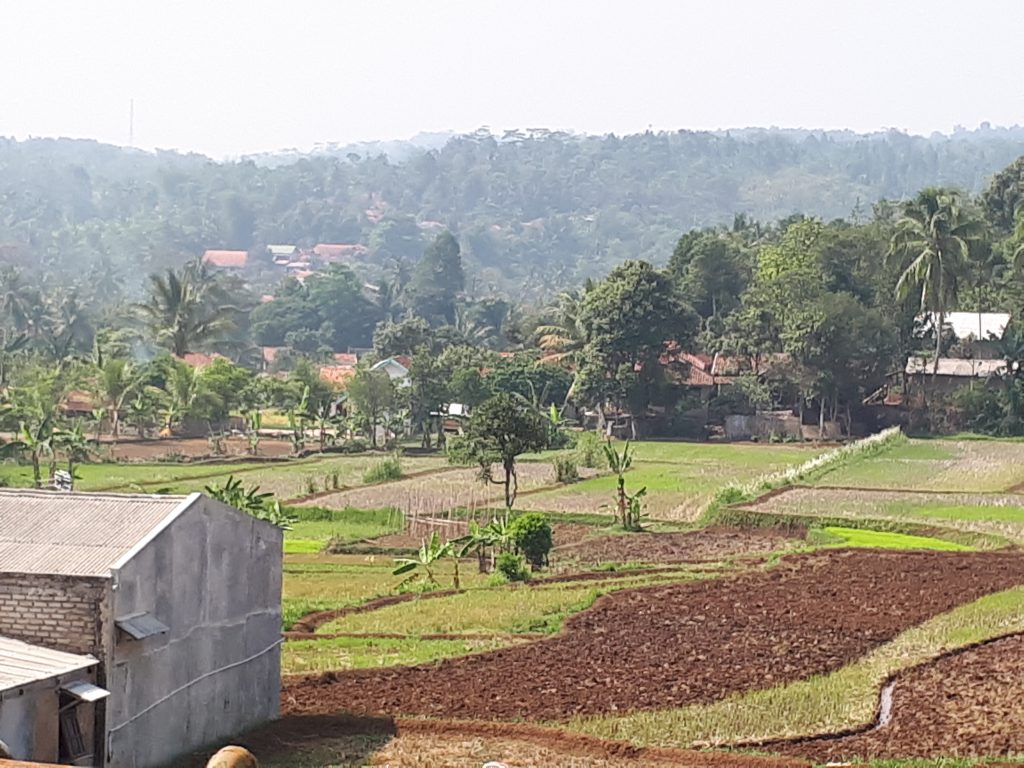 From Sukabumi I took the bus to Bandung, driving through beautiful mountain villages. I only stayed one day in Bandung, because the next day the train leaves for Yogyakarta. And from the train I saw the most amazing views.
Here in Yogyakarta I could only stay for one day at the bed&Breakfast Yokyakarta BnB, that was recommended to me by the friends I met in Sukabumi, because there was a big festival at the Alun Alun Kidul square and every hostel was fully booked. I did have some time to visit the Sultan palace, before driving trough the city with my suitcase on a riksja to the bus to Borobudur.
Kraton Ngayogyakarta Hadiningrat
The palace of the Sultan of Yogyakarta. It is the seat of the reigning Sultan of Yogyakarta and his family. The complex is a center of Javanese culture, and contains a museum displaying royal artifacts. It is guarded by the Yogyakarta Kraton Guards. In the morning visitors can walk around the complex and visit the museum.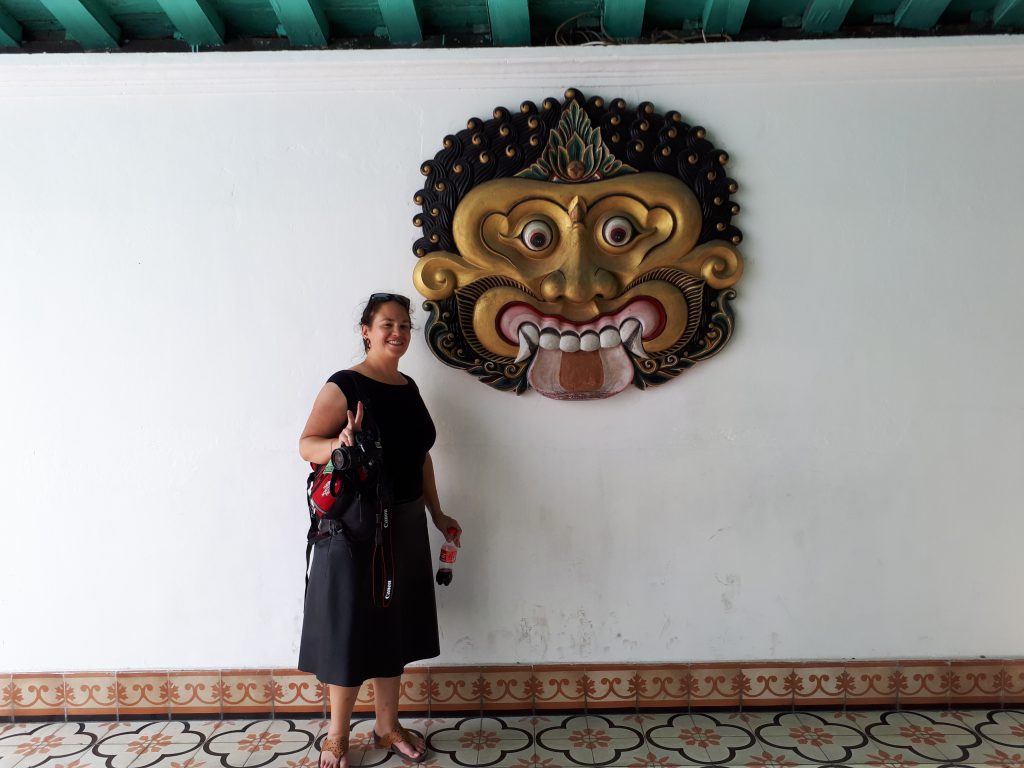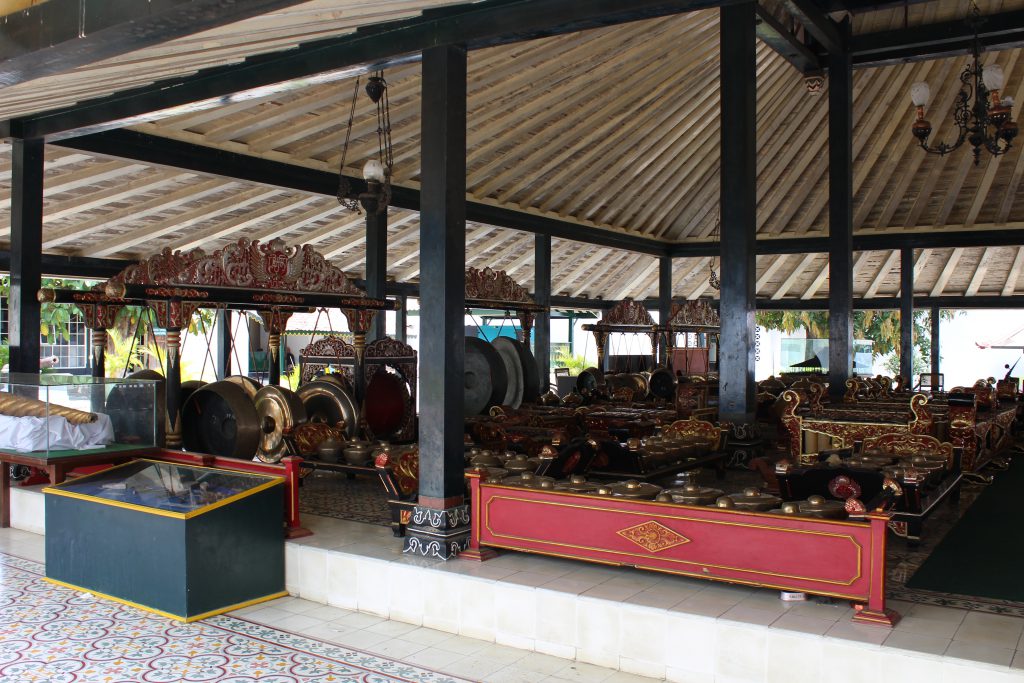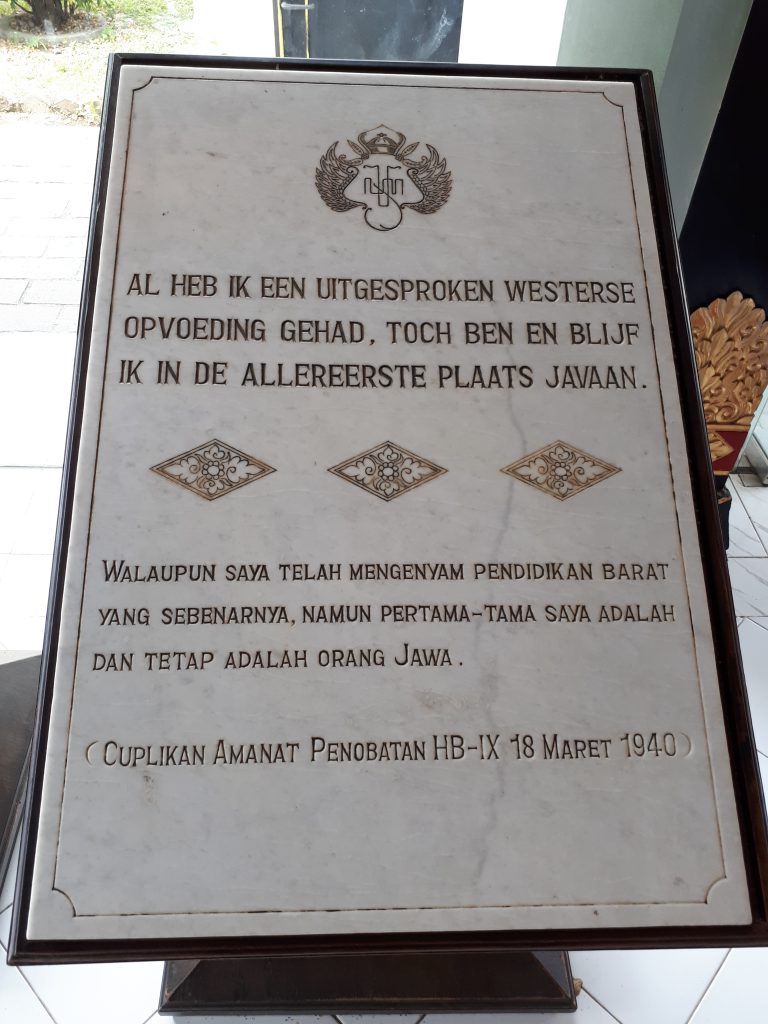 Borobudur
So the next day I went to Borobudur village and I stayed there for two days at the Jawan Inn homestay until the festival was over.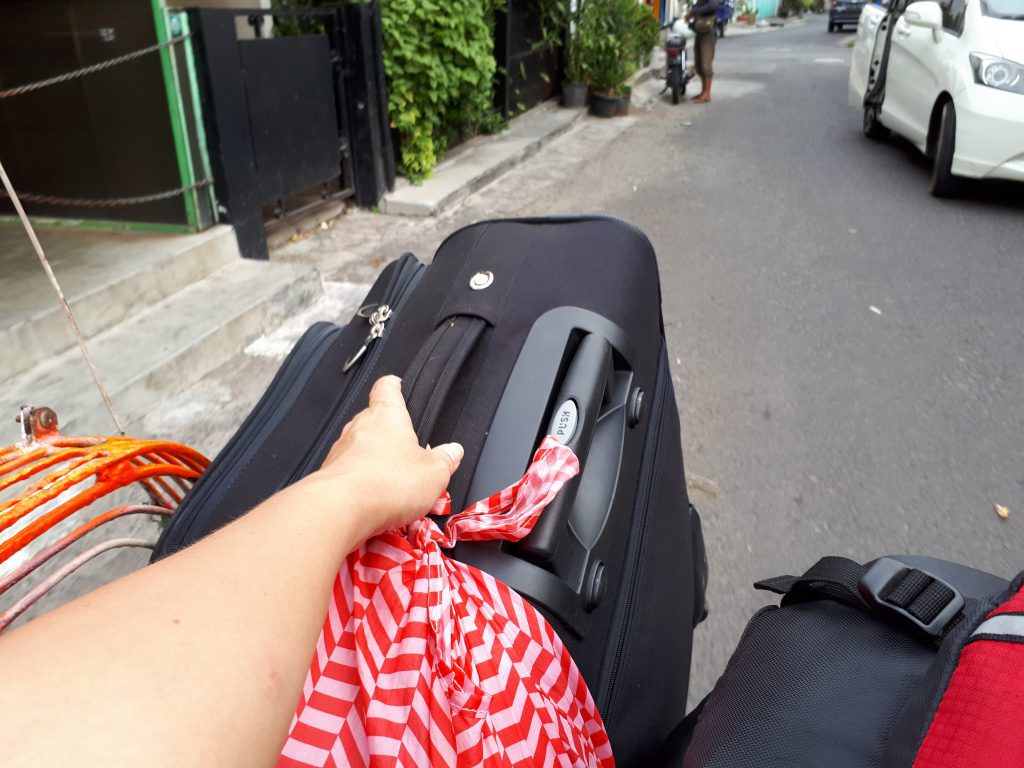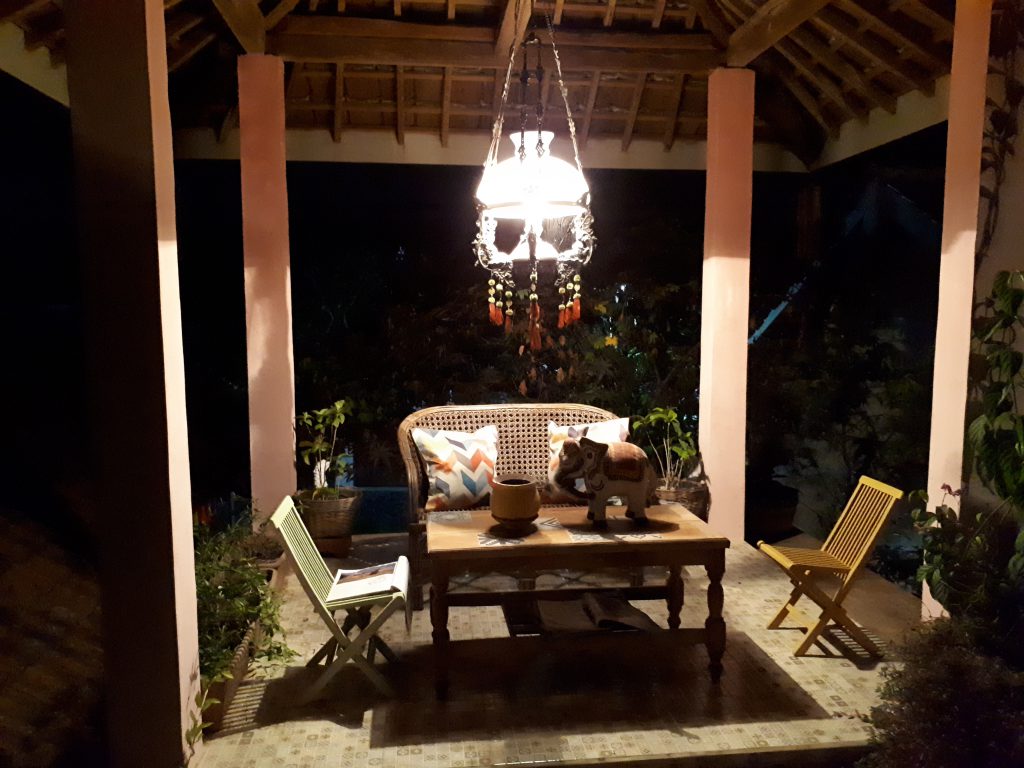 I had to get up at 4.00 A.M. to see the sunrise at Borobudur. The guy that owns the homestay drove me there on his scooter, it was only half an hour away. While walking from the entrance to the temple the sun started to rise. It was an amazing view.
Borobudur is the world's largest Buddhist temple. It was build in the 9th century.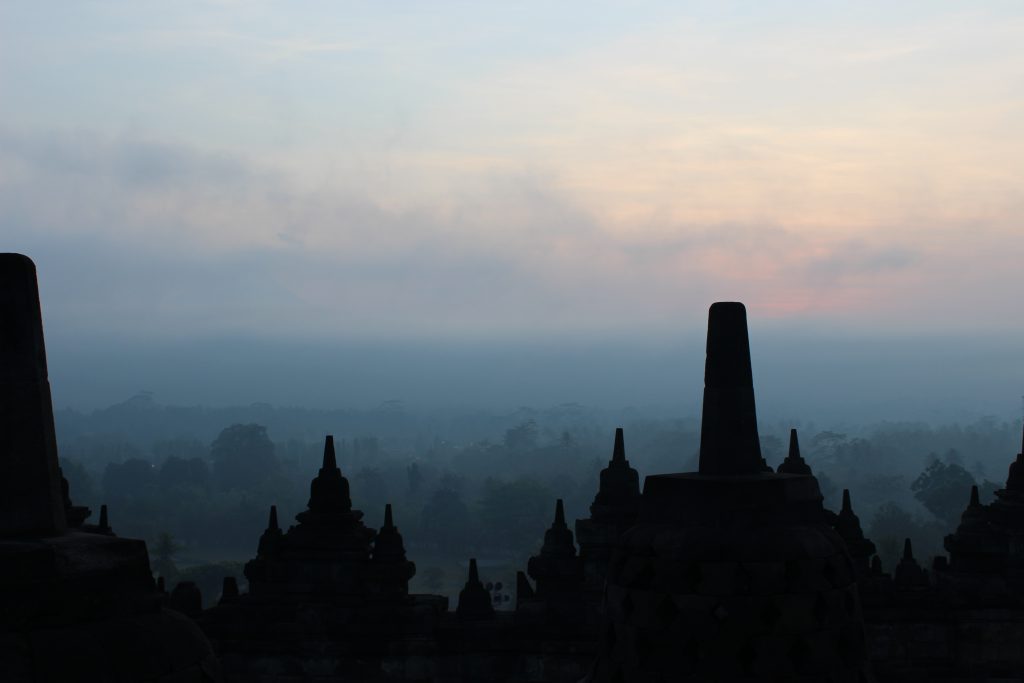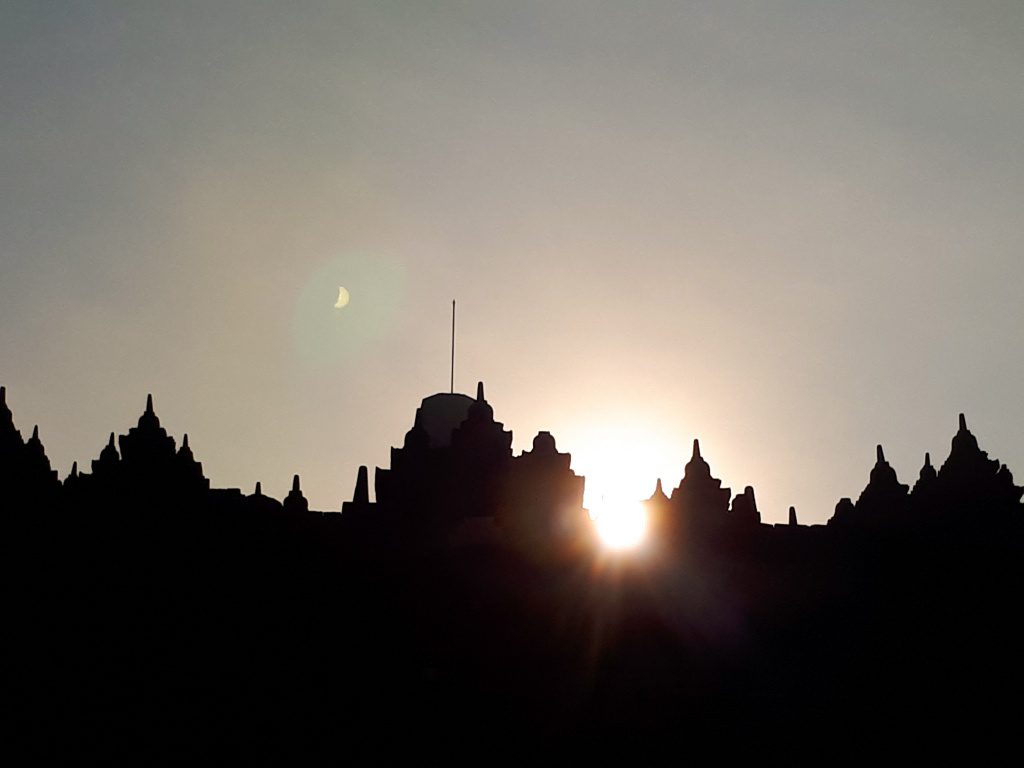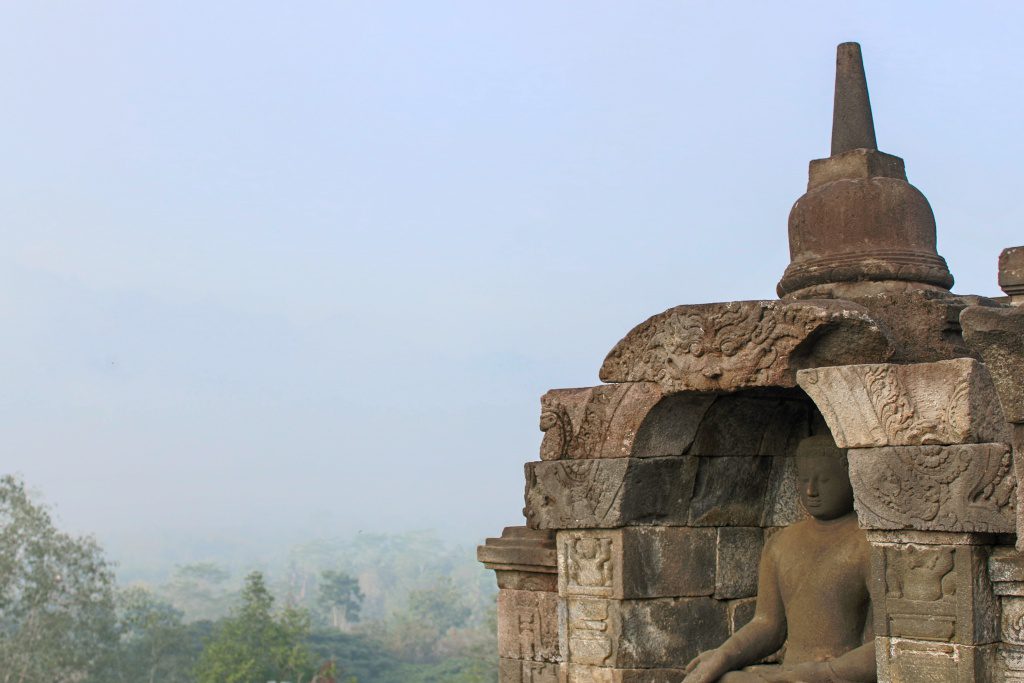 The Borobudur village
The village near the temple on top of the hill is very small. You can easily walk through it and there are many small temples.
Yogyakarta
After the festival was over I found another hostel in Yogyakarta with a swimming pool. People here were very friendly and from here I could easily visit the area, Prambanan and Yogyakarta.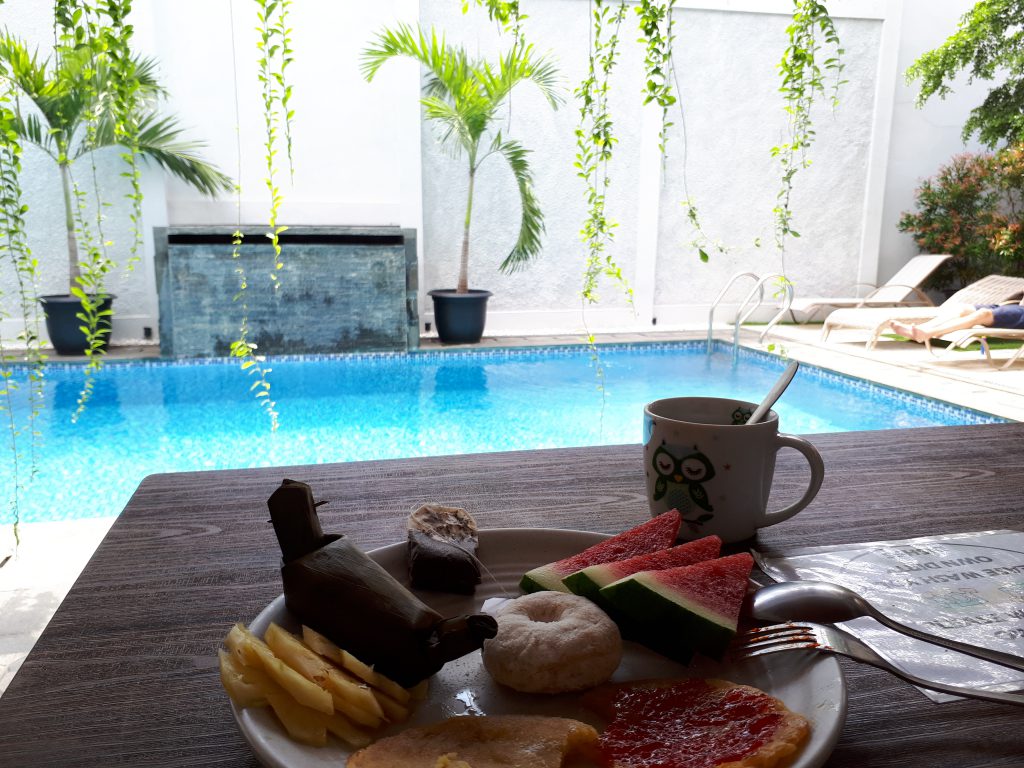 Finally I found my favorite cakes (around the corner here): Spekkoek (Kwe lapis) and Kwe Surabaya. It's funny they call spekkoek Kwe lapis langit (heavenly layered cake).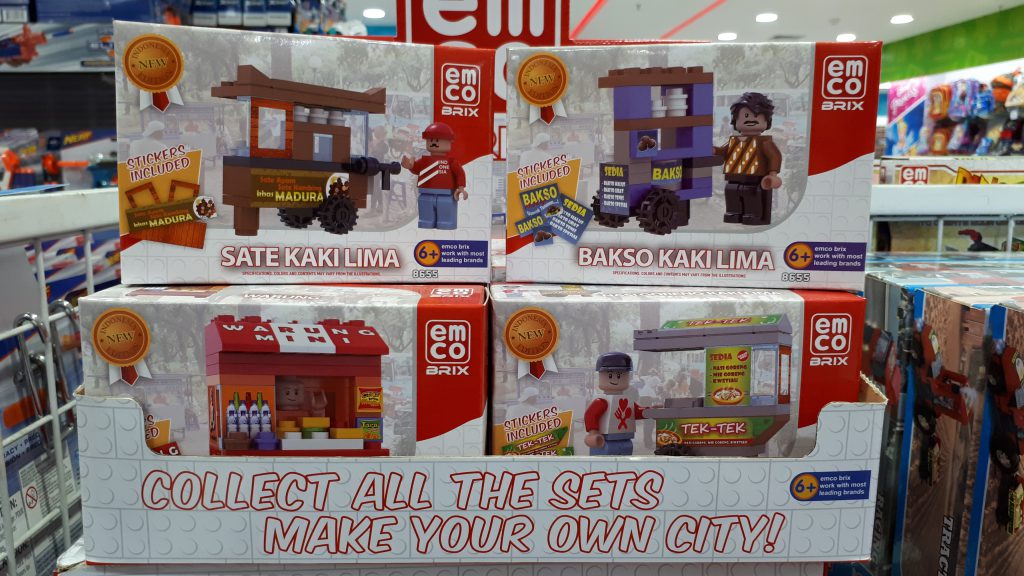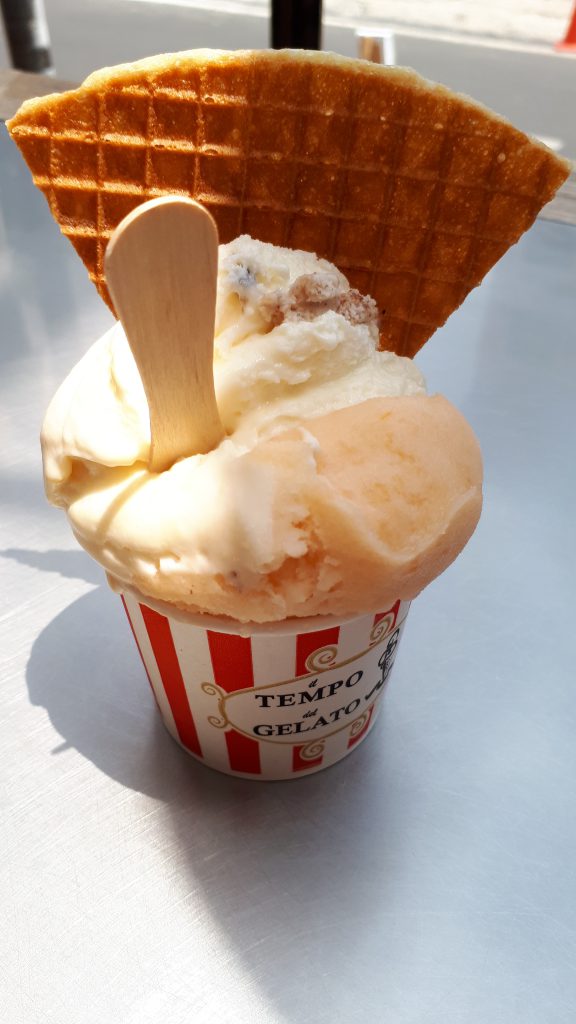 This is a very nice restaurant and they have one of my favorite deserts (Agar-agar) here!
The next morning I'm going to Prambanan. I took the local bus to see the area of Yogyakarta and see how local people travel. It was a few hours drive.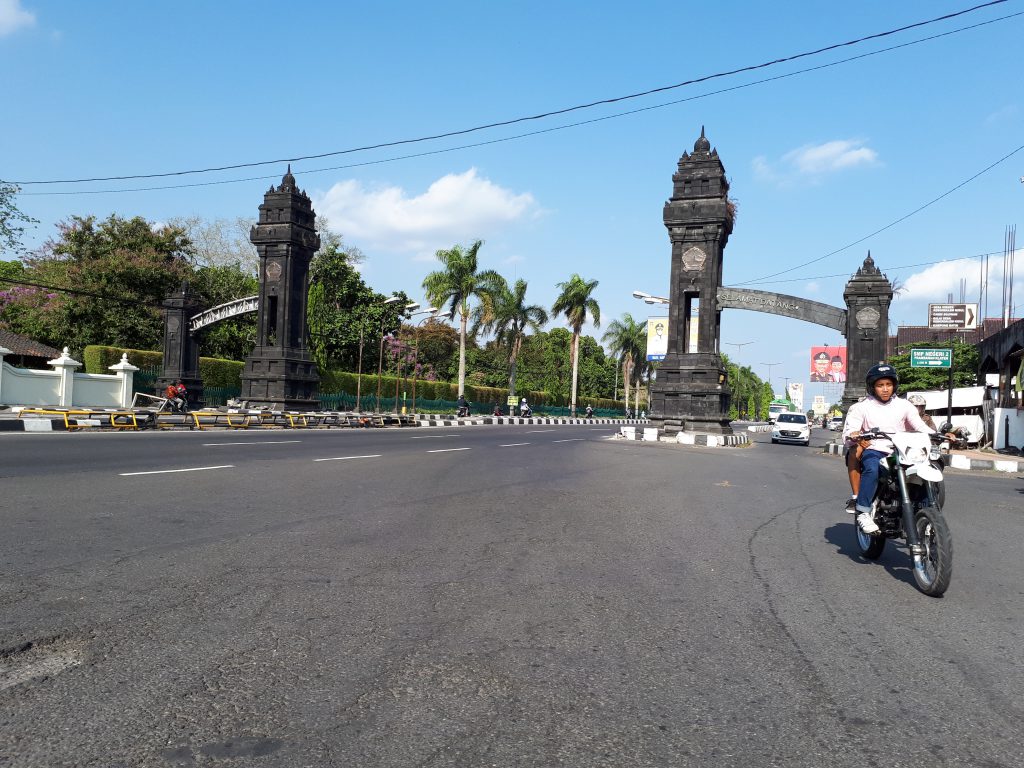 Prambanan
Prambanan or Rara Jonggrang (Javanese: ꦫꦫꦗꦺꦴꦁꦒꦿꦁ) is a 9th-century Hindu temple compound in Special Region of Yogyakarta, Indonesia, dedicated to the Trimūrti, the expression of God as the Creator (Brahma), the Preserver (Vishnu) and the Transformer (Shiva). The temple compound is located approximately 17 kilometres northeast of the city of Yogyakarta.
The temple compound, a UNESCO World Heritage Site, is the largest Hindu temple site in Indonesia and the second-largest in Southeast Asia. It is characterized by its tall and pointed architecture, typical of Hindu architecture, and by the towering 47-metre-high central building inside a large complex of individual temples.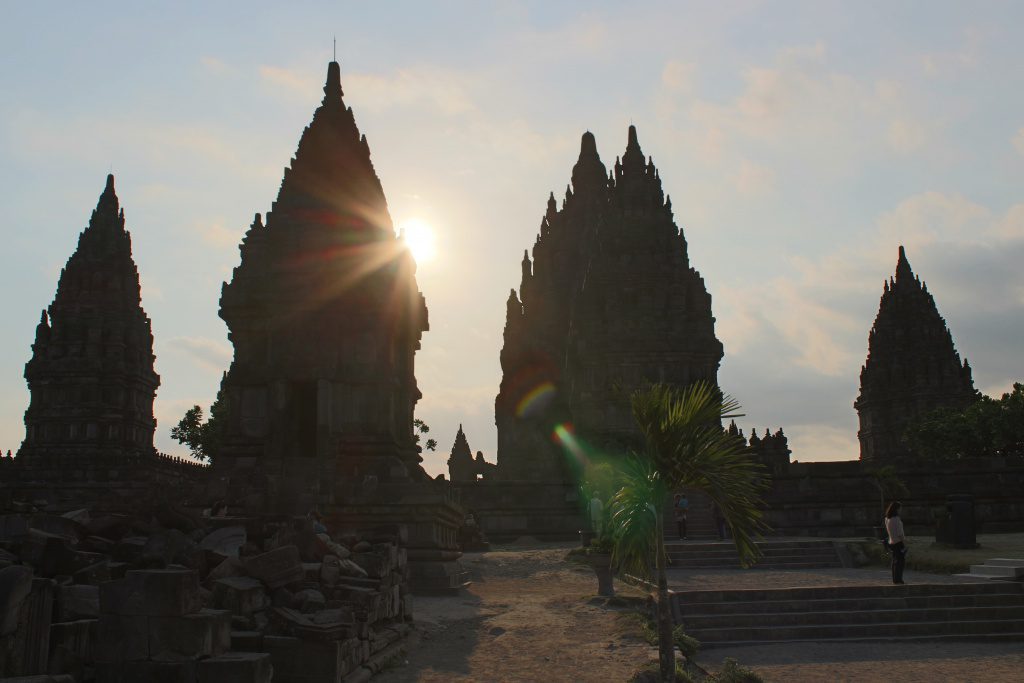 The Javanese locals in the surrounding villages knew about the temple ruins before formal rediscovery, but they did not know about its historical background: which kingdoms ruled or which king commissioned the construction of the monuments. As a result, the locals developed tales and legends to explain the origin of temples, infused with myths of giants, and a cursed princess. They gave Prambanan and Sewu a wondrous origin; these were said in the Loro Jonggrang legend to have been created by a multitude of demons under the order of Bandung Bondowoso. It is the largest Hindu temple of ancient Java.
The temple attracted international attention early in the 19th century. In 1811 during the short-lived British occupation of the Dutch East Indies, Colin Mackenzie, a surveyor in the service of Sir Thomas Stamford Raffles, came upon the temples by chance. Although Sir Thomas subsequently commissioned a full survey of the ruins, they remained neglected for decades. Dutch residents carried off sculptures as garden ornaments and native villagers used the foundation stones for construction material.
Half-hearted excavations by archaeologists in the 1880s facilitated looting. In 1918, the Dutch began reconstruction of the compound and proper restoration only in 1930. Efforts at restoration continue to this day. The reconstruction of the main Shiva temple was completed around 1953 and inaugurated by Sukarno. Since much of the original stonework has been stolen and reused at remote construction sites, restoration was hampered considerably. Given the scale of the temple complex, the government decided to rebuild shrines only if at least 75% of their original masonry was available. Most of the smaller shrines are now visible only in their foundations, with no plans for their reconstruction.
Pantai Jogan and Nglambor
These beaches are south-east of Yogyakarta and it's a 3-hour drive on a scooter, so I rent a scootertaxi for a day to do this roadtrip. Along the way there are many beautiful views. At Pantai Jogan there is a waterfall flowing into the sea, I would love to see that! And in pantai Nglambor you can go snorkling. I love snorkling and with these temeratures it's great to be in the water.
This year it's very dry, the waterfall in Jogan has nearly dried up. So we drive on to Nglambor. At this beach I also go snorkling and watch the beautiful sunset.
On the way back we make a stop at a coffee shop in Gunung Kidul and watch Yogyakarta from up here.
Alun alun kidul
There are two trees (twin banyan trees) in middle of the square. If you make a wish and manage to walk through them blindfolded at night, your wish will come true. I made a wish and walked straight through them blindfolded… The game is known as masangin, which stands for "masuk dua beringin" (entrance of two banyan trees).
At night there are cars decorated with lights driving around the square.
Taman Sari Water Castle
The Taman Sari Water Castle (also known as Taman Sari, Javanese: ꦠꦩꦤ꧀ ꦱꦫꦶ), is the site of a former royal garden of the Sultanate of Yogyakarta.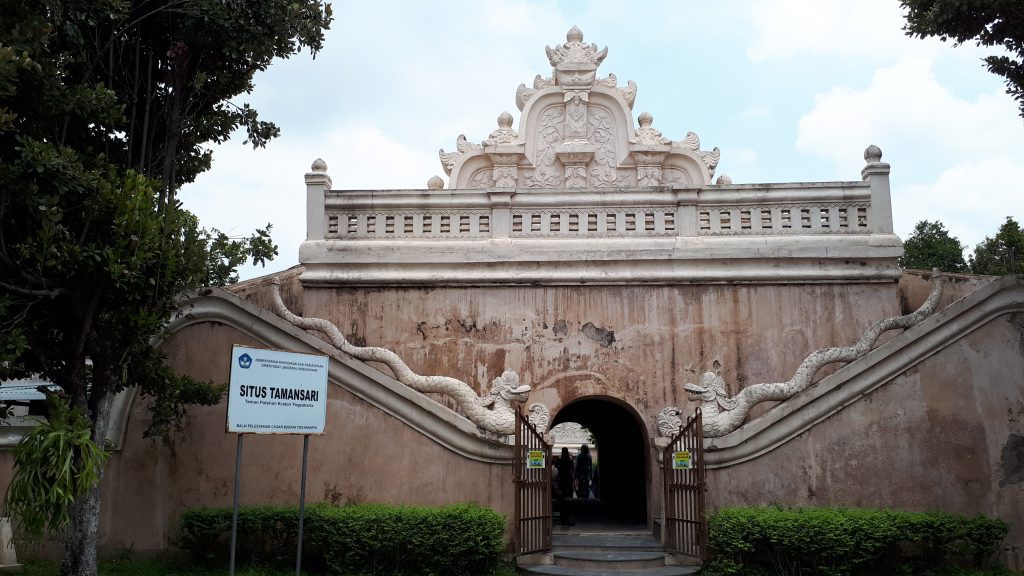 Malioboro street
A big parade going to Malioboro street.
Seventh sky
On the roof of a mall is a nice place called Seventh sky with many asian food stands with delicious food and music.
Birds and plants market
In asia they believe it brings good luck if you have a singing bird in front of your house and in China they believe fish bring good fortune. On this market a lot of animals are sold. I saw many animals I had never seen for real before. I hope they are treated well though, because a lot of animals are sadly almost extinct nowadays… On the plant market they sold many of my favorite plants, but unfortunately I couldn't bring them with me. I bought a bananaleaf bag which apparently is used by people who buy chickens. All the way back to the Bed&Breakfast everybody asked me where the chicken was as a joke, but I really like the bag anyway.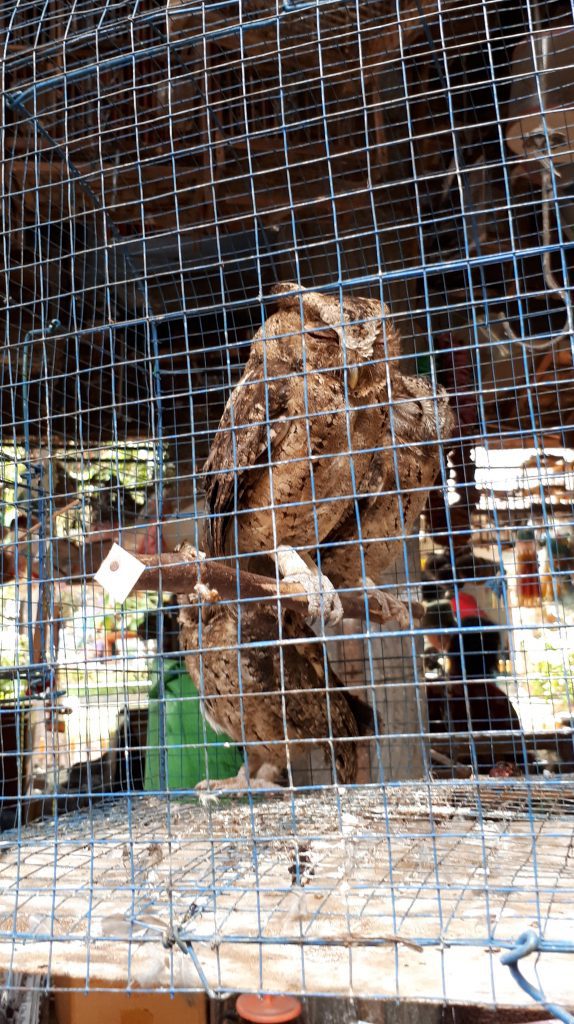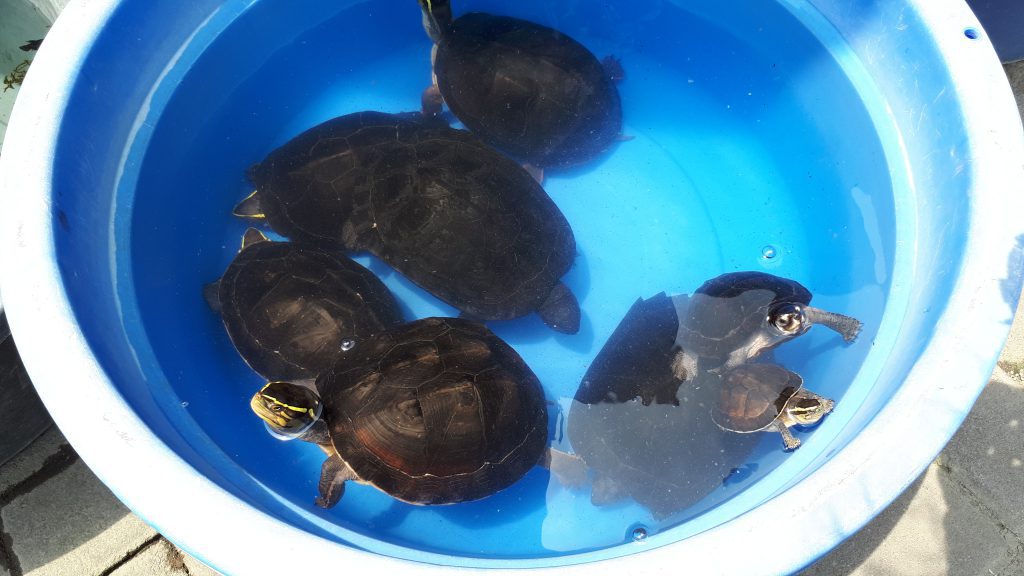 Fort Vredenburg
This fortress was built in 1765 to protect the dutch gouvernor, but now it's a museum. There are a few diorama's here to show the independence battle of Indonesia.
Batik
Batik is a technique of wax-resist dyeing applied cloth originated from Indonesia. There are many patterns influenced by a variety of cultures. In October 2009, UNESCO designated Indonesian batik as a Masterpiece of Oral and Intangible Heritage of Humanity. I love this type of art very much, so I went to an art gallery to see some beautiful art pieces and attended a workshop to create something myself, it's not as easy as it looks, but luckily I had some help.
Show
On my last night in Yogya we went to see a ladyguy show.
On the last day of my trip in 2018 I take the train back to Jakarta and enjoy the fantastic view one more time before getting on the plane back home. Wow and what an amazing journey this has been!
This is my first journey in October 2018. You can read my other two journeys by clicking on the link:
My second travelstory of August/September 2019
My third travelstory of November 2019
I'm currently experiencing problems with publishing my updated content. Since the last WordPress update this doesn't work well anymore.
Note: These stories are written from my point of view, based on my experience while traveling here, stories from my family, talking to many people and some internet sources like Wikipedia and other pages.