My journey in Nepal started on the plane flying over the Himalaya. These highest mountains of the world are so high they stick out through the clouds. It's a very nice view.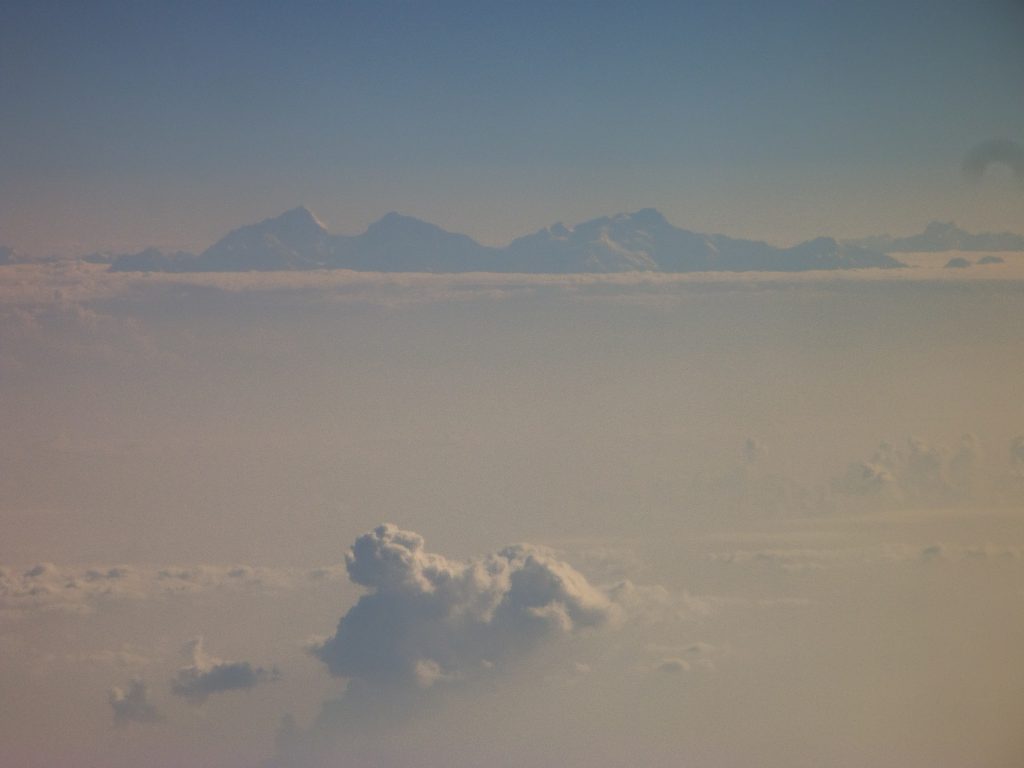 Kathmandu
Kathmandu is the capital of Nepal, around 3 million people live here. It has a multiethnic population within a Hindu and Buddhist majority. It is also the home of the Newars. The city is the gateway to the Nepalese Himalayas, and home to seven world heritage sites: the Durbar Squares of Hanuman Dhoka, Patan and Bhaktapur; the Stupas of Swayambhunath and Baudhanath; and the temples of Pashupati and Changu Narayan. There are also lots of small temples and shrines in the city. During rush hours, when you get stuck in traffic, you see many means of transportation around you: cars, scooters, busses, bycicles, riksja's and even elephants!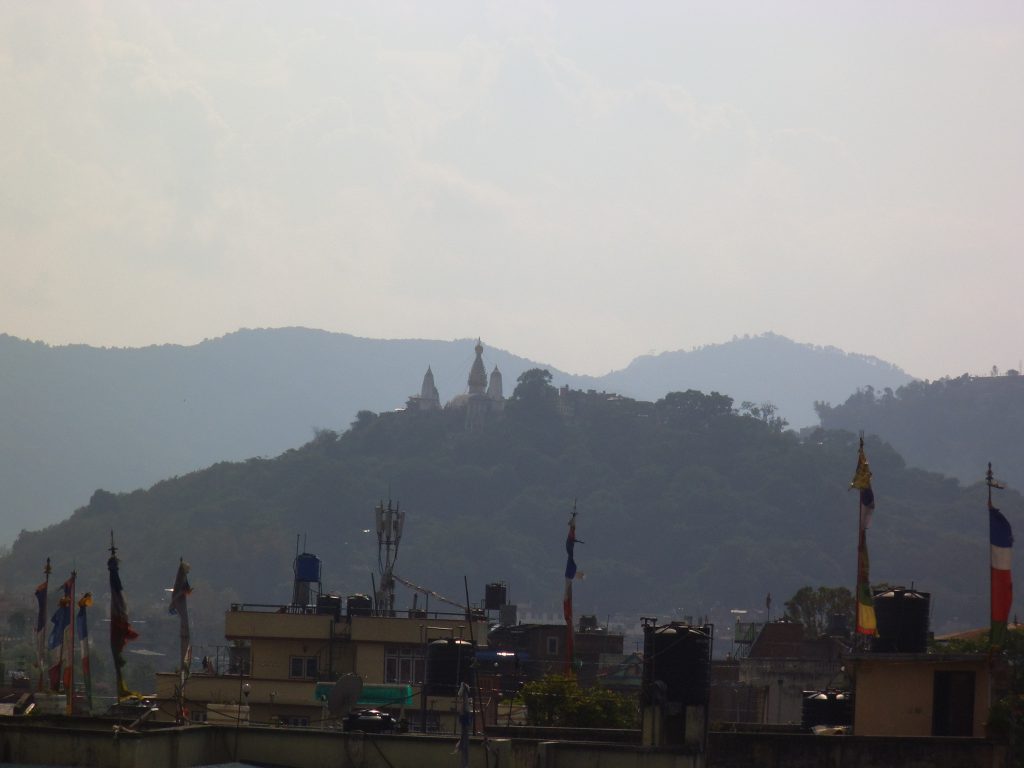 Narrow streets of Kathmandu

Riksja's

Narrow streets of Kathmandu

Momo's
Nepali street food

Dal Bhat
Nepali dish


View from the hotelroom
After a few beers, Lassi's, some Momo's, a good meal (Dal Bhat) and a good night sleep we visit the Swaymbhunath Stupa (Monkey Temple). The Tibetan name for the site means 'Sublime Trees', for the many varieties of trees found on the hill. There are holy monkeys living in the north-west parts of the temple. It is said they are holy because while Manjushri, the bodhisattva of wisdom and learning, was building the temple on the hill, his head lice transformed into these monkeys.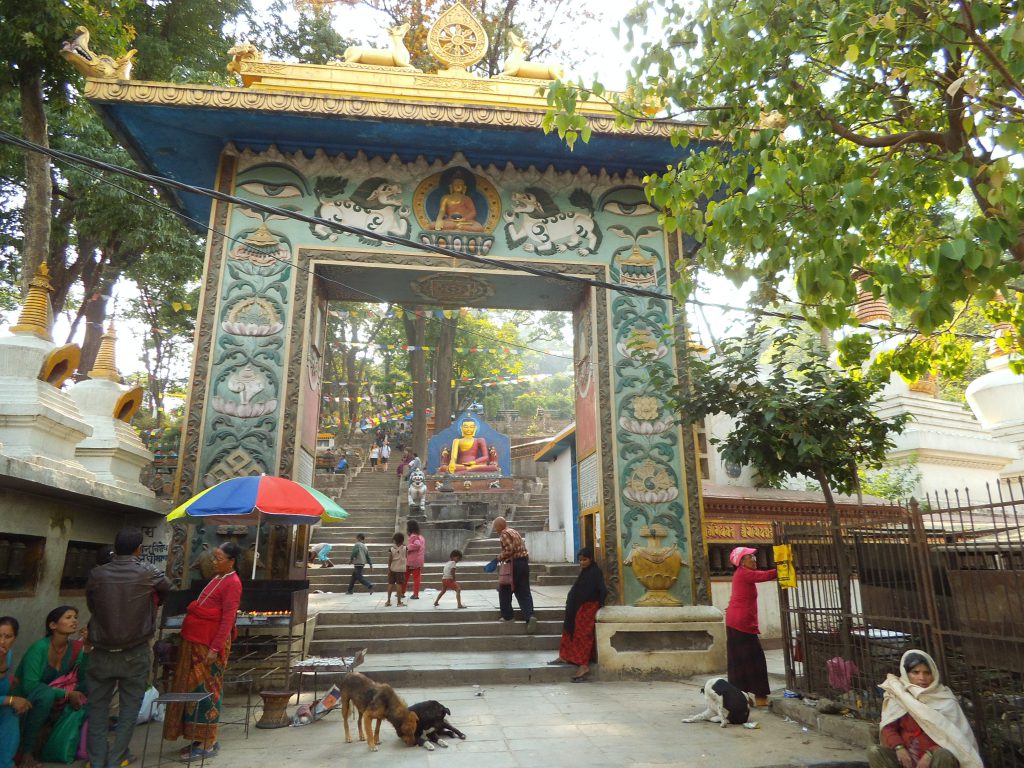 Monkeys

More monkeys

Stairs to the top
On the stairs to the top people are selling Bagh Chal, a traditional Nepali game, among other souvenirs. From the top of the stairs you have very nice view on Kathmandu.
Souvenirs made from stone

Bagh Chal, a traditional Nepali game
This stupa is one of the holiest Buddhist stupas and the oldest of its kind in Nepal and has numerous shrines and monasteries on its premises. The dome at the base represents the entire world. There is a large pair of eyes on each of the four sides of the main stupa which represent Wisdom and Compassion.
View on Kathmandu

Top of the Monkey temple
More monkeys
Swayambhu literally means "self-existent one". Believed to date back to 460 A.D., it was built by King Manadeva and by the 13th century, it had become an important center of Buddhism. Legend has it that Manjusri had a vision of the Lotus at Swayambhu and traveled there to worship it. Seeing that the valley could be a good settlement, and to make the site more accessible to human pilgrims, he cut a gorge at Chovar. The water drained out of the lake, leaving the valley in which Kathmandu now lies. The Lotus was transformed into a hill and the flower became the stupa.
More monkeys in the city
In Kathmandu there are many shops, rooftop terraces and good food. We have to watch out with ice cubes and what we eat, because there isn't electricity everywhere. There are also a lot of power shutdowns from time to time. Also Wifi is not everywhere yet, so the only way to keep in touch with friends and family back home is by going to internet cafés. We meet a lot of nice people and are also invited to a party with a very good rock coverband. I didn't take any pictures there to show you Nepali people also know how to party.
On the last day (until we return here at the end of our roundtrip) we visit the Durbar Squares of Hanuman Dhoka, Patan and the stupa of Bouddhanath.
Durbar Square, which means Royal Square in English, are the plazas and areas opposite the old royal palaces in Nepal. It consists of temples, idols, open courts, water fountains and more. Before the Unification of Nepal, Nepal consisted of small kingdoms, and Durbar Squares are most prominent remnants of those old kingdoms in Nepal. In particular, three Durbar Squares in the Kathmandu Valley, belonging to the three Newar kingdoms situated there before unification, are most famous: Kathmandu Durbar Square, Patan Durbar Square and Bhaktapur Durbar Square. All three are UNESCO World Heritage Sites.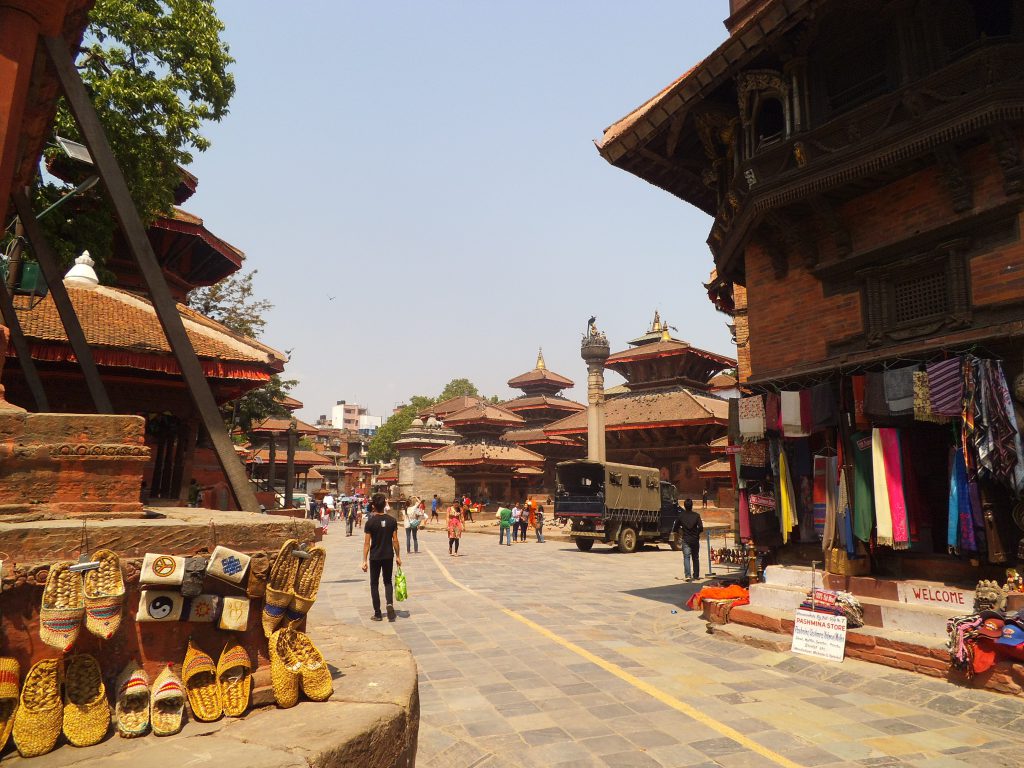 Scooters at Durbar square

Royals look out on Durbar square

Kala Bhairava
at Kathmandu Durbar square

Ganesh
at Kathmandu Durbar square
The first stupa of Bouddhanath is the world's largest stupa and was built sometime after AD 600, when the Tibetan king, Songtsen Gampo, converted to Buddhism. After it was wrecked by Mughal invaders in the 14th century it was rebuilt.
Stupa of Bouddhanath

Stupa of Bouddhanath

Praying rolls

Rooftop terraces

Stupa of Bouddhanath
The highly symbolic construction serves in essence as a three-dimensional reminder of the Buddha's path towards enlightenment. The plinth represents earth, the kumbha (dome) is water, the harmika (square tower) is fire, the spire is air and the umbrella at the top is the void or ether beyond space.
Chitwan
From Kathmandu we take the bus heading southwest. Next stop on this roundtrip is Sauraha, a small village near Chitwan National Park. This is one of the oldest national parks in Nepal and is home to a variety of wild animals, such as elephants, crocodiles, rhino's, Begal tigers and Sloth bears. It also has breeding centers for elephants and crocodiles.
Drive through mountains

Foodmarket near busstop

Arriving at the jungle where Chitwan lies

View from room at resort

Eating table at the resort
Sauraha is a very small village and elepants carry people and goods. Up until now I didn't know elephants were so silent when they walk. They only make a shambling sound and they are huge. Amazing animals.
Sauraha

House in Sauraha

Rapti river in Sauraha

Elephant in Sauraha
The resort where we stay is nearby the washing place of the elephants. Every day the caretakers take the elephants there and tourists can sit on the back of an elephant. From this area you have a very nice view of the sunset.
Sunset in Sauraha

Sunset in Sauraha

Elephants bathing

I'm on the back of an elephant bathing
Elephant bathing

Elephant bathing Sauraha

Elephants in town

Elephants in town
Chitwan has a tropical monsoon climate with high humidity all through the year. The typical vegetation of the Inner Terai is Himalayan subtropical broadleaf forests with predominantly sal trees covering about 70% of the national park area. The wide range of vegetation types in the Chitwan National Park is haunt of more than 700 species of wildlife and a not yet fully surveyed number of butterfly, moth and insect species. Bird watchers recorded 543 species in the Chitwan National Park, much more than in any other protected area in Nepal. Since 1984 it's a UNESCO World Heritage Site.
Jungle

Wild animals

Crocodile

Elephant

Small lizards
The forest is very old and beautiful. We ride through the jungle on an elephant until we reach the Rapti river, where we take a canoe to the other side and take a walk in the forest. Along the way we have an amazing view and see a lot of wild animals and beautiful trees. Also the remains of a tree eaten by termites.
Elephant safari

Rhino seen on Elephant safari

Rhino's on Elephant safari

Rhino on Elephant safari

Canoe safari

Rapti river

Rapti river

Rapti river

Flowers in Rapti river

Walking with a guide

Tree eaten by termites
We also take a biketrip through the jungle to see the Thousand Lakes area. And slept in a tree house in the middle of the jungle, to spot a tiger who only walks around at night, but unfortunately we don't see one. On the last day in Chitwan we went on a jeepsafari during the day we did see some tiger marks on trees and a lot of rhino's and crocodiles.
Biking in the jungle

Hut in the jungle where we sleep

Thousand lakes

Thousand lakes

Crocodile

Tiger marks

Rhino

Rhino
We also make a stop at the elephant breeding center and crocodile breeding center.
Elephant breeding center

Elephant breeding center

Elephant breeding center

Crocodile breeding center

Crocodile breeding center
And the next day we travel to our next destination: Lumbini.
Bus

At a busstop

At a another busstop

At a another busstop

At a another busstop

Foodmarket at busstop
Lumbini
All the way in the south of Nepal is where Lumbini lies. It's the birthplace of Prince Siddhartha Gautama (Buddha) and one of the hottest places I've ever visited. This time of year it's around 40 degrees Celsius. It's also a very isolated and dusty area in Nepal. We even made it to the local newspaper, because a bus with tourists traveling to Lumbini is very exceptional apparently. Currently a lot of hotels are build to attract tourists, but today it looks like a very quiet and abandoned area.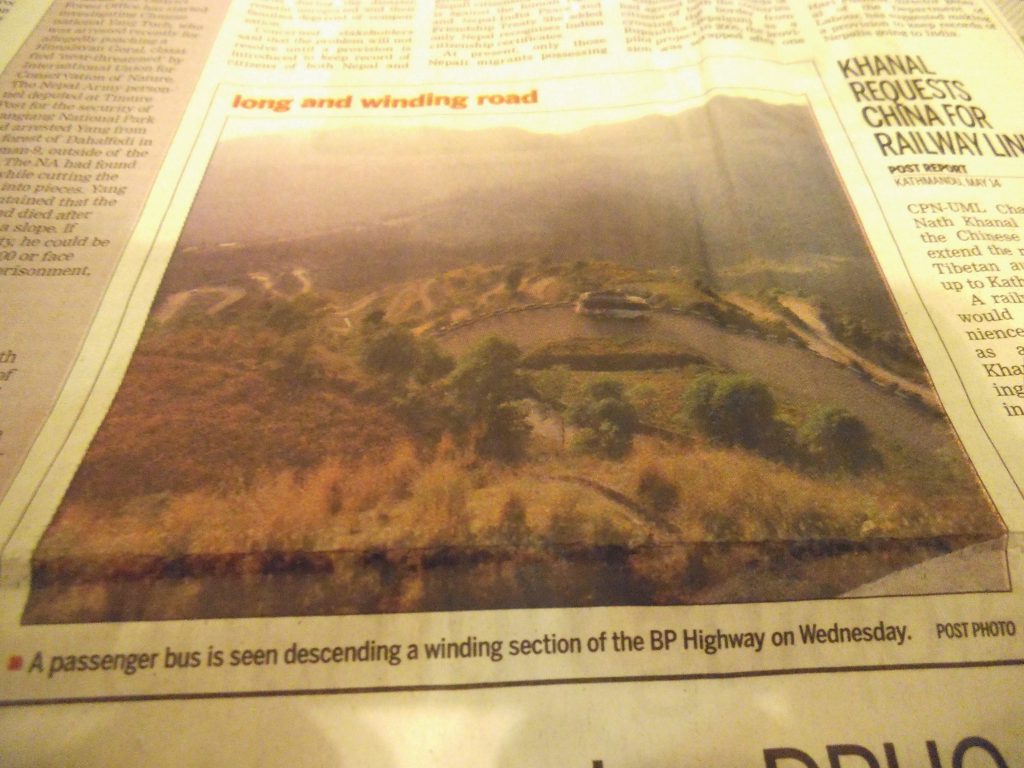 Hotel and garden in Lumbini

The area around the hotel

ATM in Lumbini

Dal bhat – delicious Nepali dish
The next day is Buddha's birthday. There is no transport of any kind to be found to go to Buddha's temple, so we have to walk. Along the way we see a lot of beautiful exotic plants, temples and statues.
It's a loooong way to the temple

And it's very hot, but a beautiful view

Very nice plants and flowers

A holy place

Other temples along the way

Lots of Buddha statues

Beautiful flowers

More beautiful flowers
After a long walk in the heat, we arrive at the temple that was build where Buddha was born. A lot of people have come to this temple today to celebrate this holiday. Where do they suddenly all come from? Everybody stands in line to pray, make wishes and pay there respect to the statue of Buddha inside the temple.
Maya Devi Temple

Maya Devi Temple

Maya Devi Temple

Welcome to Lumbini

Shoes off

Peace and love message from Buddha
When we leave the temple we find a riksja who shows us the area and the World Peace Pagode before taking us back to the hotel.
On a riksja to the
World Peace Pagoda

World Peace Pagoda

World Peace Pagoda

One of the other temples in the area

Exotic flower and sunflowers

Beautiful water lilies

More water lilies
Himalaya trekking
After the heat we are happy to arrive in a much cooler Pokhara and book a trekking in the mountains immediately. It's a 3-days walk through the Himalaya to the top of a "hill", from where we can see the sunrise over the 4 Annapurna's (mountains). The road is quite steep here and there and we walk about 8 hours a day. The weater is much better than in Lumbini, it's around 25-30 Degrees, lots of shade under the trees and the air we breathe is fresh. The view along the way is fantastic.
Ready for this adventure!

Crossing this creek

Left or right?

Waterfall

Waling through villages

Magnificant view during the break

The next village

A farm

Amazing view

Another village
Only two more hours to go

Someone is building a house

Wow such a nice view

Passing through another village

Loundry
Scary bridge, off course I'm not afraid of heights, well…

Beautiful

Horses are faster than us
Baking bread in the sun

We reached the top!
After this walk it's easy to fall asleep. At 4 am the alarmclock rings. When I look outside I see the most amazing sunrise I've ever seen. Wow! No words can describe this!
The 4 Annapurna's before sunrise

The 4 Annapurna's before sunrise

The sun!

Ooooh

Wow!

Goodmorning!

The 4 Annapurna's during the day
It's day again and after breakfast we leave. Another 8-hour walk ahead of us. And many more amazing views. There are also many beehives in the mountains, that honey is sold all over Nepal.
Goodbye gate
It's a loooong way down

Look! The horses that passed us yesterday.

Children going to school

Steep way up

Cattle

More cattle

And a sheperd as well

Breaktime!

Oooh

Ahhh

Don't look down

Nice view

Another village

Do we need more toiletpaper?

More loundry

This way

We arrived at the hotel

Amazing view from here

It's getting dark

Breakfast again!

The bread they bake on the rooftops

Some honey

I hope this is true…

Time for another break

View of the valley
Pokhara
Back in Pokhara it's time to relax. This is the second largest city of Nepal with around 300.000 inhabitants. There are many massage shops, restaurants and bars in this town. One of the people we met in Sarangkot (in the mountains) told us he is a restaurant owner and has a plane which he turned into a VIP lounge. He invited us to come and eat at his restaurant and so we did.
Pokhara is situated right at Phewa lake, a big lake with a lot of boats you can take a boat trip on. In the middle of the Phewa lake is a small island with a temple on it. On the other side of the lake, way up in the mountains is another World Peace pagode which you can see from Pokhara.
It's time for a Lassi

Lunch
Phewa lake

Boats of al kind

Many canoes

And many more

The island with the temple
Bhaktapur
It's almost time to go home. One more stop in before going home: Bhaktapur, the former capital of Nepal during the great 'Malla Kingdom' until the second half of the 15th century. There is so much to see in this incredibly beautiful town, like many temples, The Golden Gate, pottery square and off course Durbar square. From the restaurants and roofterraces you have a very nice view on the squares.
Town of Bhaktapur

Town of Bhaktapur

Entrance gate to Bhaktapur
Durbar square, Nyatapola temple on the left

Durbar square

Restaurant view on the square

Restaurant view on the square

Changu Narayan temple
Fasi Dega temple

The Golden Gate (Sun Dhoka)

Siddhi Lakshmi temple

Batsala Devi temple

Batsala Devi temple

Bell of Batsala temple

Stone wrestler statue of Phattu at Nyatapola Temple

Kedarnath temple
Hotel in Kathmandu

Traditional Nepali band
One last strawl through Katmandu on the last night before flying back home. At the luxurious hotel where we stay plays a traditional Nepali band. When they are finished it starts to rain heavily. The monsoon has started. Now it's really time to go home.
*A year later (2015) an earthquake shockingly killed nearly 9,000 people and injured nearly 22,000 people in Nepal. Also almost a quarter of this square was destroyed.